This fun Valentine's Day Fudge is made with six ingredients and It's loaded with red, white and pink sprinkles.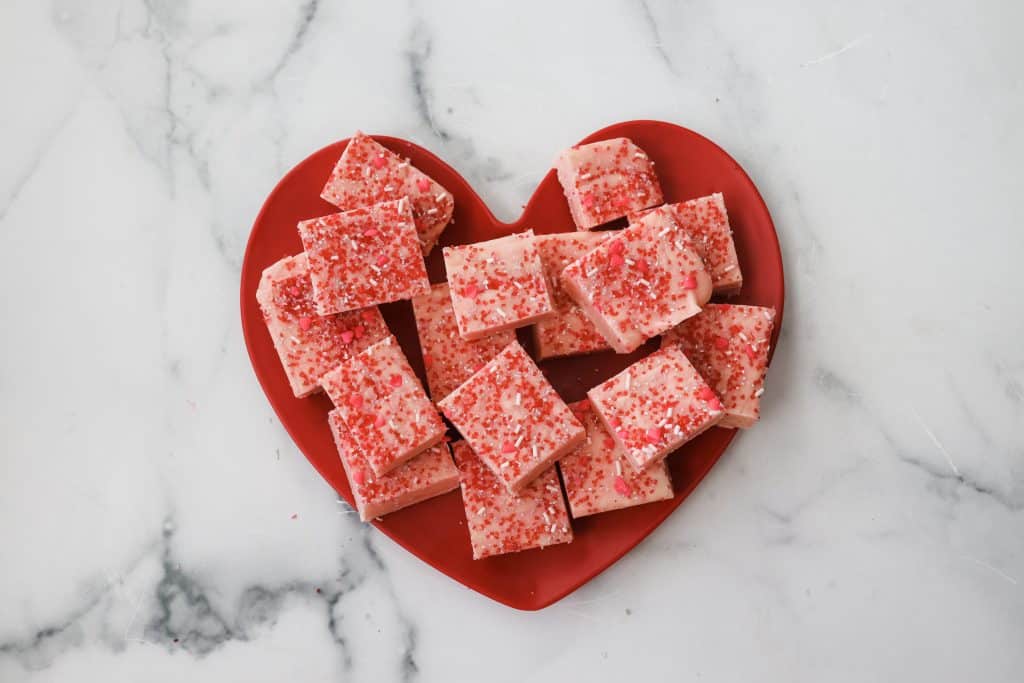 Valentine's Day Sugar Cookie Fudge
I love making sweets and treats for Valentine's Day. This Sugar Cookie Fudge is so good and they're perfect for Valentine's Day gifts for teachers, friends, family and of course your Valentine.
Fudge Ingredients
For this easy Fudge you only need 6 ingredients.
Making Valentine's Day Fudge
Prep your pan: Line an 8×8 square pan with parchment paper and spray with cooking spray.
Melt the fudge mixture: Add the white chocolate chips, condensed milk, sugar cookie mix and butter to a large bowl over boiling water. Stir until the mixture is smooth.
Mix in vanilla and sprinkles: add to pan: Remove from heat and. mix in the vanilla extract and 1/4 cup of the sprinkles.
Transfer mixture to pan: Add to the prepared pan and smooth out fudge with a spoon or spatula
Add more sprinkles: Add the remaining sprinkles to the top of the fudge.
Cool: Refrigerate for at least 3 hours.
Sugar Cookie Fudge
Ingredients
3 cups white chocolate chips
1 cup sugar cookie mix
1 can sweetened condensed milk
1 tablespoon unsalted butter
1 teaspoon pure vanilla extract
1/2 cup Valentine's sprinkles
Directions
In a medium bowl over boiling water, combine chocolate chips, sugar cookie mix, sweetened condensed milk and butter.
Stir until melted and smooth.
Remove from heat and add the vanilla and half of the Valentine's Sprinkles, mix well.
Transfer the fudge to a 8×8 baking dish lined with parchment paper and cooking spray. Smooth out the fudge and top with remaining sprinkles.
Chill in the refrigerator for 3 hours and enjoy.
If you're looking for more Valentine's Day recipes check these out: Cupid's Crunch and Valentine's Strawberry Pies