With Valentine's Day coming soon, I've been looking for yummy and unique recipes to make with my daughter. We made this Cupid's Crunch (Valentine's Popcorn) last week and it's so delicious.
This is seriously one of the best snacks I've had. With the sweet from the candy melts and M&M's, to the savory popcorn and pretzels, this is one of the best snack mixes I've ever had.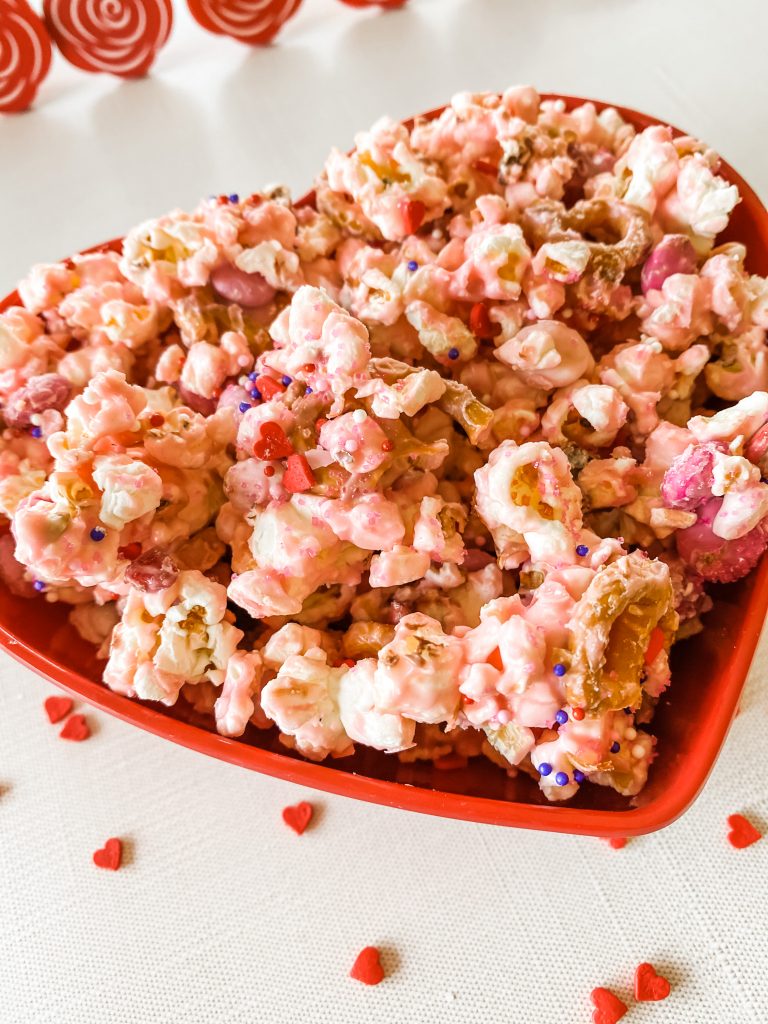 It has only 5 ingredients (popcorn, pretzels, m&m's, candy melts & sprinkles)and it's so easy to make.
This popcorn is perfect for gifting. You can put it in a cute box or bag and give it to friends & family for Valentine's Day.
Cupid's Crunch Recipe
Ingredients
1 Bag of microwave popcorn
1 Bag of Valentine's m&m's
1 Cup of pretzels broken into pieces
1 Bag of wilton's pink candy melts
Valentine's sprinkles & nonpareils
Directions
Pop popcorn and place into a large mixing bowl. Make sure to remove any unpopped kernels.
Toss in the broken pretzels & m&m's and combine.
Melt the candy melts in a bowl for 30 second intervals in the microwave, stirring each time, until smooth.
Pour the melted candy on top of popcorn mixture and mix with a rubber spatula to combine.
Spread onto a baking sheet lined with parchment paper.
Sprinkle with nonpareils and sprinkles and let the mixture sit for 10 minutes to set.
Once the chocolate is firm break into pieces and serve.