Introduction
Are you looking for the perfect dessert to bring to your Friendsgiving gathering? Look no further than Shortbread Toffee Cookie Bars! These delicious treats are not only easy to make, but they also store perfectly in Rubbermaid TakeAlongs, thanks to their Quickclik seal. In this blog post, we will not only share a mouthwatering recipe for Shortbread Toffee Cookie Bars but also discuss the convenient features of Rubbermaid TakeAlongs that make them the ideal storage solution for all your Friendsgiving treats.
The Convenient Features of Rubbermaid TakeAlongs
Rubbermaid TakeAlongs are the perfect storage containers for your Friendsgiving desserts. These containers come in multiple sizes, allowing you to store different types of foods and recipes. Whether you're storing delicate cookies or hearty casseroles, there's a Rubbermaid TakeAlong container that's just the right size for your needs.
Not only are Rubbermaid TakeAlongs versatile in size, but they are also BPA-Free, ensuring that your food stays fresh and safe. This is especially important when storing desserts like Shortbread Toffee Cookie Bars, as the absence of harmful chemicals guarantees that the taste and quality of your treats will remain uncompromised.
Rubbermaid TakeAlongs are not only convenient for storage but also for reheating. These containers are microwave-safe, allowing you to easily warm up your Friendsgiving desserts before serving. Additionally, they are freezer-safe, meaning you can make your Shortbread Toffee Cookie Bars ahead of time and keep them in the freezer until you're ready to share them with your friends.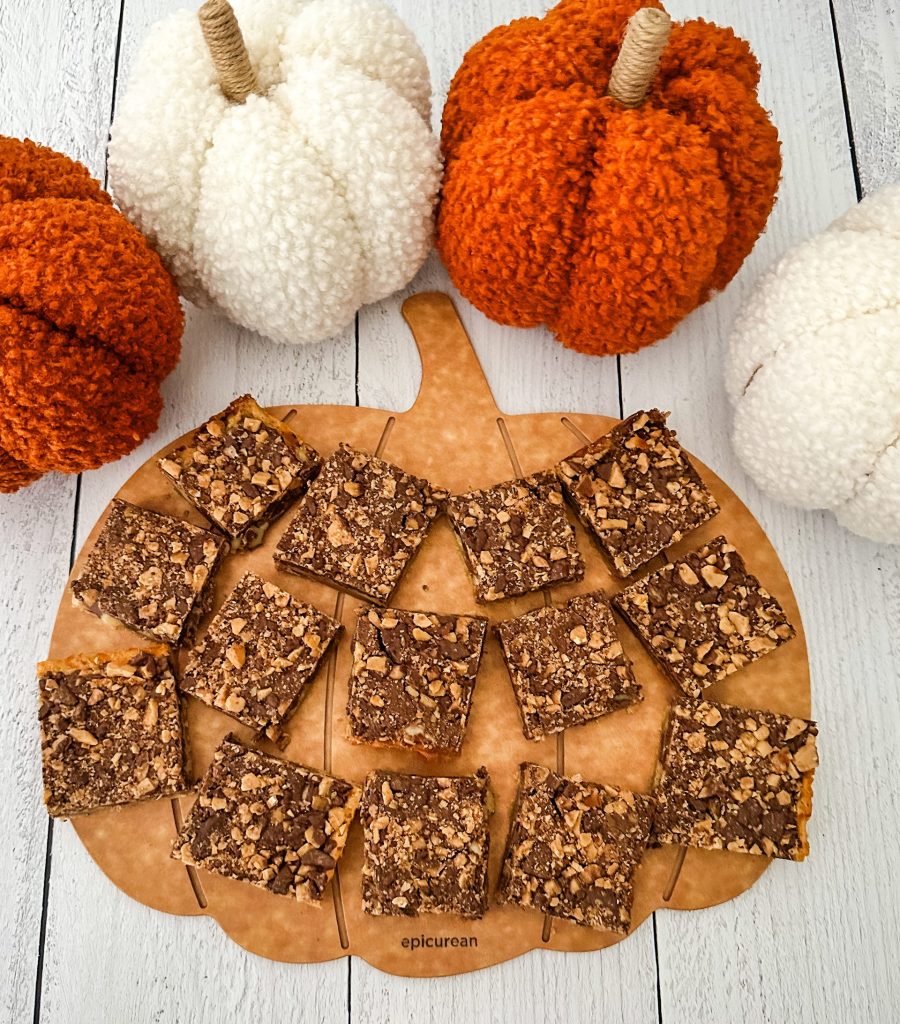 Recipe for Shortbread Toffee Cookie Bars
Ingredients:
SHORTBREAD CRUST
3/4 cup butter, room temperature
3/4 cup light brown sugar
1 1/2 cups flour
FILLING
1 cup sweetened condensed milk
2 Tbsp butter
TOPPING
2 cups milk chocolate chips
1 1/2 cups Toffee Bits
Instructions:
Preheat oven to 350°
Line a 9×13 pan with foil and spray lightly with nonstick spray.
SHORTBREAD CRUST
Beat butter and sugar together until combined, 1-2 minutes.
Mix in flour. Press into prepared pan and bake for 15 minutes. Remove from oven and allow to cool slightly.
FILLING
In a small pot heat sweetened condensed milk and butter together until butter is melted. Pour over shortbread crust. Bake 15 minutes until filling is bubbly and browned. Remove from oven.
TOPPING
Immediately sprinkle milk chips on top of filling when it comes out of the oven. Place back in oven for 2 minutes until chips are shiny and soft.
Carefully spread the chips over the filling with an off-set spatula.
Sprinkle with toffee bits, pressing into milk chocolate.
Allow to cool completely before cutting into squares.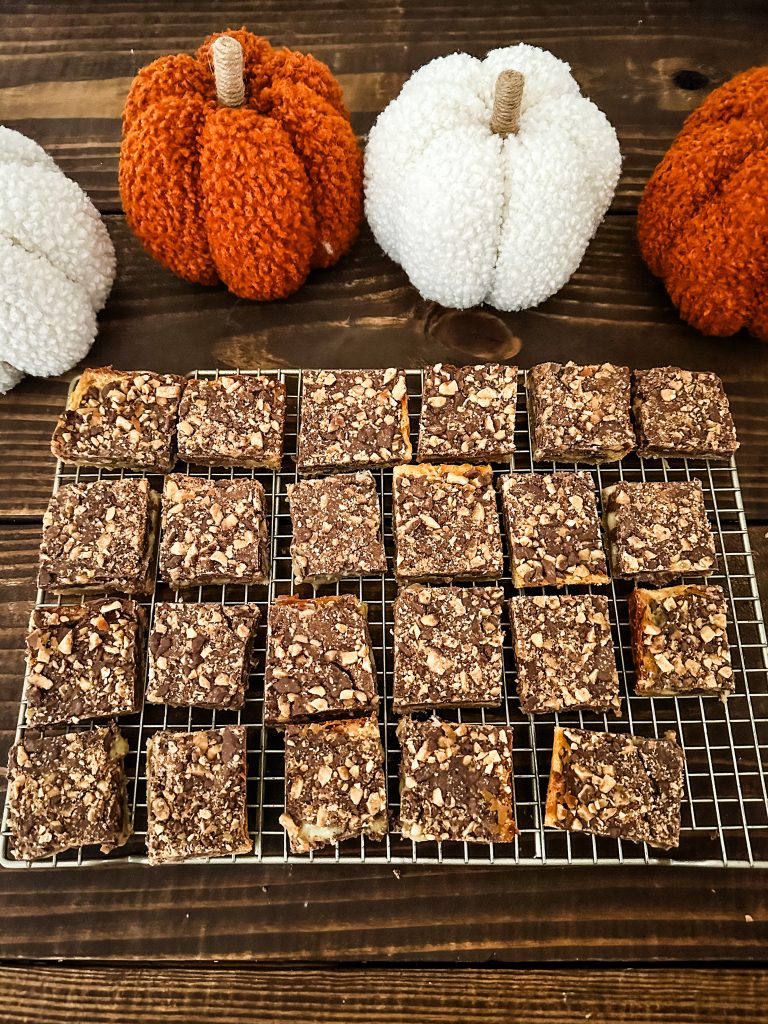 Conclusion
Shortbread Toffee Cookie Bars are the ultimate dessert for your Friendsgiving gathering. With their buttery shortbread base and gooey toffee and chocolate toppings, these bars are sure to impress your friends. And thanks to the convenient features of Rubbermaid TakeAlongs, you can easily store and transport these delicious treats without worrying about them losing their freshness. So go ahead, whip up a batch of Shortbread Toffee Cookie Bars, store them in Rubbermaid TakeAlongs, and get ready to be the star of Friendsgiving!