These Pumpkin Cream Cheese Hand Pies are so delicious and easy to make. Using only eight ingredients this will be your new favorite hand pie recipe.
These hand pies are not only perfect for Fall, but also parties, holidays and of course an after dinner dessert. I use store bought crust for my hand pies, it's easier and more convenient for me, especially with two little ones running around.
I love that with hand pies you can use any filling that you like and they are personal size. If you're looking for other filling options, check out my recipe for easy peach hand pies.
Recipe Below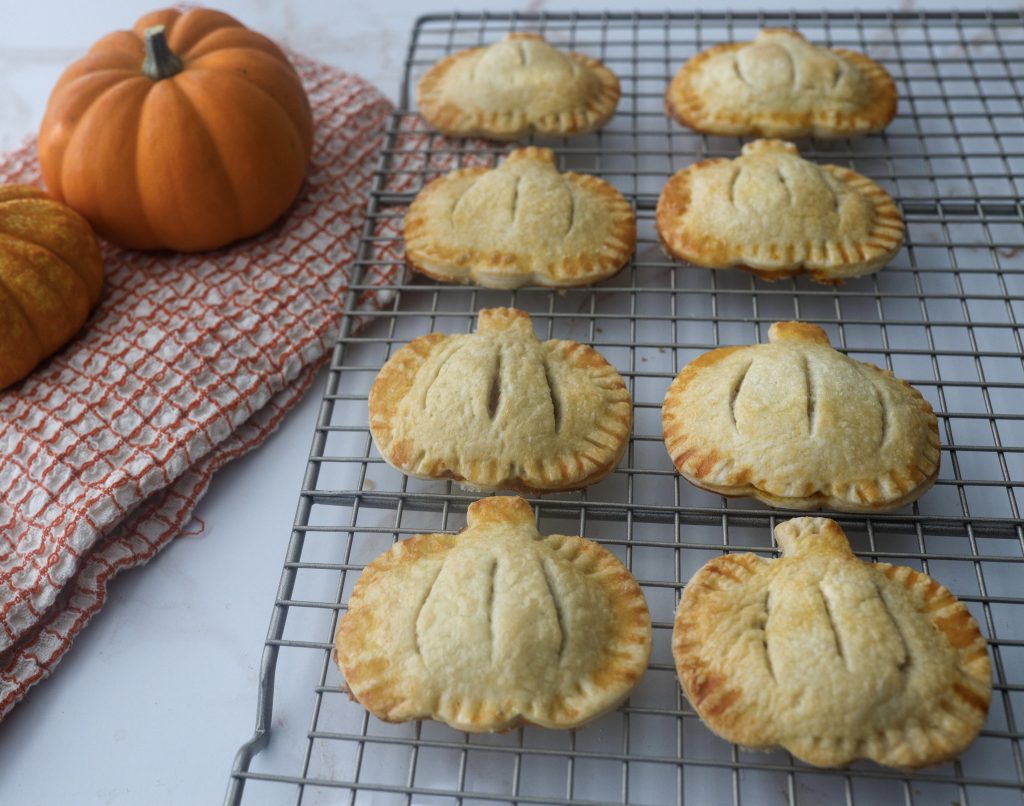 Pumpkin Cream Cheese Hand Pies
Ingredients
1 Box of Rolled Store bought pie crust (each box has 2 rolls)
1/2 cup canned pumpkin puree
2 tablespoons light brown sugar
1 1/2 tablespoons white sugar
1 teaspoons pumpkin pie spice
½ teaspoon vanilla extract
4 oz cream cheese, room temperature
1 egg yolk, room temperature
1 egg, beaten
Directions
Preheat oven to 350°F and line a baking sheet with parchment paper.
In a small pot cook pumpkin puree for 5 minutes. Remove from heat and mix in brown sugar and white sugar. Add in pumpkin spice and vanilla extract, mix well. Set aside and let cool for 5 minutes.
In a separate bowl mix cream cheese and egg yolk together until smooth. Add pumpkin mixture to bowl and mix well.
Roll out pie crust onto a surface that has been dusted with flour. Cut out shapes using a small pumpkin shaped cookie cutter. Take half of the pumpkin shaped crust and place a spoonful of the pumpkin cream cheese mixture into the center of each one. Moisten the edges of crust that have filling with water and top with the remaining cutout pumpkin crusts.
Seal the edges by pressing down with your finger and use a fork along the edge of the crusts. Brush each top with the beaten egg and sprinkle with granulated sugar.
Using a sharp knife, cut three slits across the top of the crust. Transfer to the prepared baking sheet and bake for 25 minutes.
Serve warm or at room temperature.