These slow cooker meatballs are so delicious and healthy.
The original recipe is from Eatwell101 and I made a few modifications by using a different type of ground meat and adding mushrooms to our dish.
My husband and I have been trying to do better with our eating habits and we started KETO this past week. He did Atkins years ago and loved it and KETO is very similar to Atkins. The fact that he can have cheese is a plus for him.
Having my 10 month old and trying to cook is a challenge, so when I find crock pot meals like this I jump on them.
The prep time for this dish is literally 10 minutes and it cooks in the slow cooker for 4 hours. Easiest dinner ever!
What I love about this dish is that it is hearty, filling, delicious and good for us.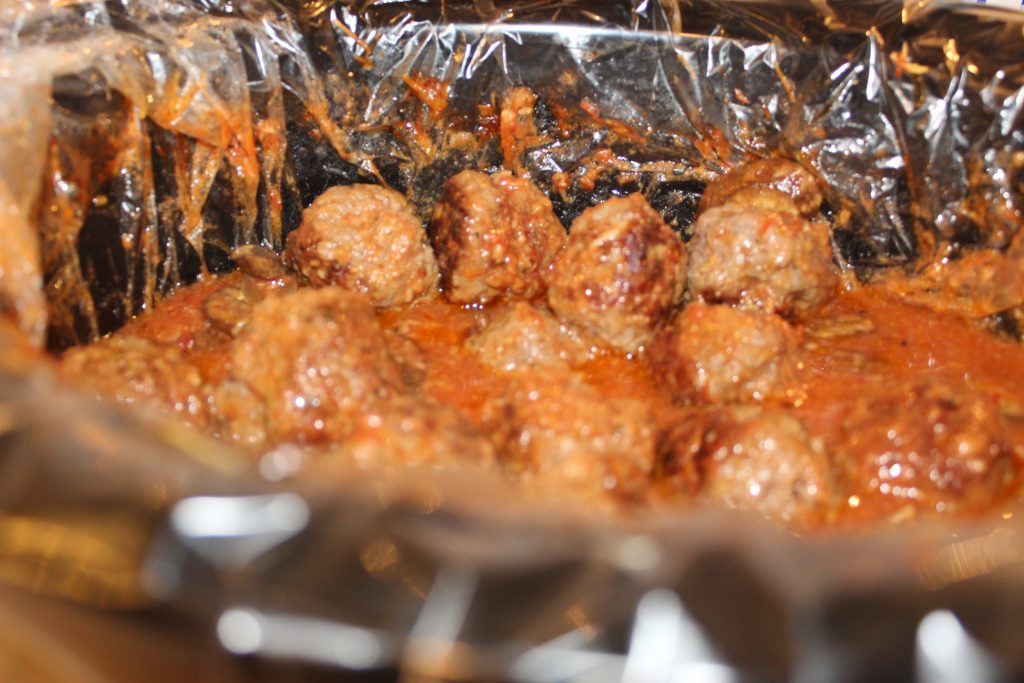 Ingredients
1 lb Italian Sausage
1 lb Ground Bison
1 1/2 Cups Grated Parmesan
1 Can Crushed Tomatoes
1 Cup Vegetable Broth
1 Pack Sliced Mushrooms
1 1/2 Tablespoons Italian Seasoning
1 Teaspoon Cayenne Pepper
1 Tablespoon Garlic Powder
1 Tablespoon Onion Powder
Sea Salt
Instructions
In a large bowl, combine Italian sausage, bison, 1 cup of parmesan and 1 tablespoon Italian Seasoning.
Make golf-sized balls out of the mixture.
In a skillet over medium-heat, add a tablespoon of avocado oil and brown the meatballs. Once browned transfer to the slow cooker.
Add the crushed tomatoes, mushrooms, vegetable stock, remaining Italian seasoning, garlic powder, cayenne pepper, onion powder and remaining parmesan. Stir to combine.
Cover and cook on low for 4 hours.
Add salt to your liking, Serve and Enjoy.
This can be served by itself or over cauliflower rice, zucchini noodles or butternut squash noodles.
*I use crockpot liners in my slow cooker for easy cleanup*