Introduction
Summer is the season of fresh fruits and one of my favorites is peaches. Juicy, sweet, and fragrant, peaches are the perfect fruit for snacking, baking, and cooking. I love using them in a variety of dishes, but my absolute favorite way to enjoy them is by making Peach Hand Pies. And to store them, I always use my trusty Rubbermaid TakeAlongs.
Recipe For Peach Hand Pies
Peach Hand Pies are a delicious and easy-to-make dessert that everyone loves. To make them, you'll need
peach pie filling
cinnamon
powdered sugar
milk
1 egg separated
2 boxes refrigerated pie crust.
To make the hand pies
Preheat oven to 425°F. Remove pie crusts from boxes and allow to come to room temperature while you prepare filling.
Dump pie filling into a bowl and dice peaches into small pieces using a fork and knife.
Unroll the pie crusts and cut 6 circles from each crust using a 4 inch biscuit cutter.
Using a small cookie scoop, drop a Tablespoon of peach pie filling into center of each pie crust circle. Fold in half, pinch edges and press the edges with a fork to seal. Poke hand pie with fork once, to prevent bursting.
Beat egg white in a small bowl and brush over the tops of each hand pie.
Bake on silpat baking sheet or a piece of parchment paper on a cookie sheet for 15 minutes.
While pies are baking, whisk together the powdered sugar and milk until smooth. Remove cooked pies from baking sheet and drop (while warm) into glaze, coating it completely. Return to parchment paper and allow to set. ENJOY! To store place hand pies in an airtight container.
Storing Peach Hand Pies with Rubbermaid TakeAlongs
Once the Peach Hand Pies are baked, dipped and cooled, it's time to store them. This is where my Rubbermaid TakeAlongs with the quick click seal come in handy. These containers are perfect for storing pies, as they have a tight seal on the lids that audibly clicks into place, so you know that your food is secure and will be kept fresh for days. Plus, they're stackable, so you can easily store them in the fridge or freezer without taking up too much space.
Another benefit of Rubbermaid TakeAlongs is that they're reusable. You can wash them and use them again and again, which is great for the environment and your wallet. Plus, they're dishwasher safe, so cleaning them is a breeze.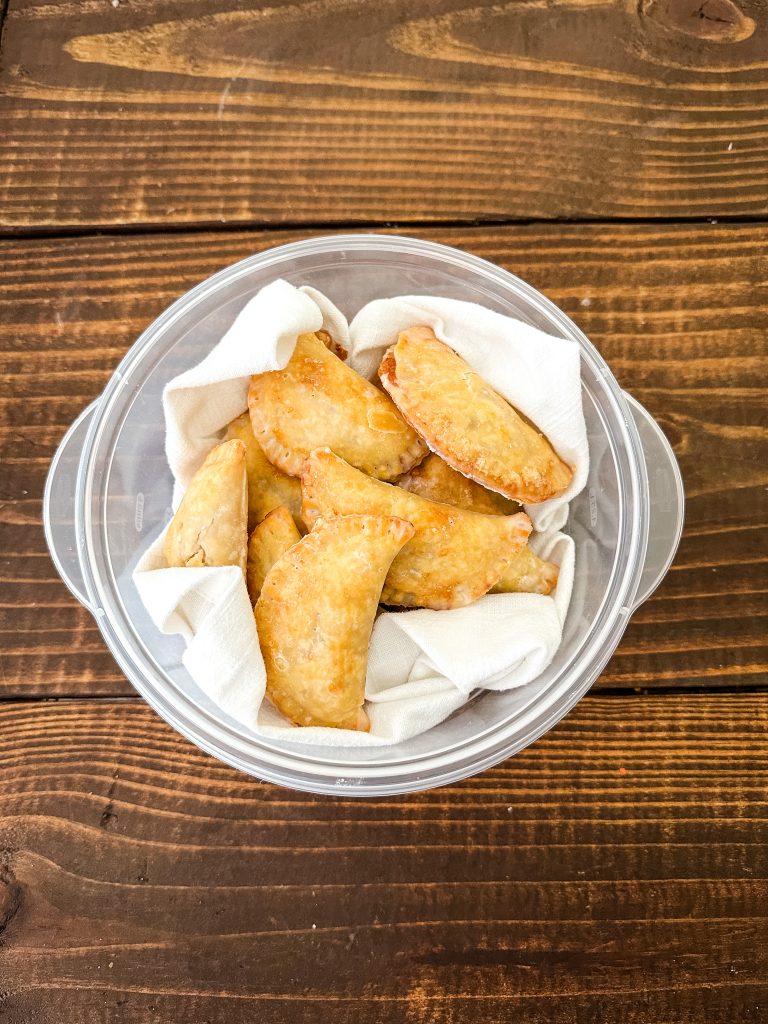 Conclusion
In conclusion, peaches are a delicious and versatile fruit that are perfect for summer. Whether you're snacking on them fresh, using them in a recipe, or making Peach Hand Pies, they're sure to satisfy your sweet tooth. And when it comes to storing your pies, there's no better way than with Rubbermaid TakeAlongs with the quick click seal. So go ahead and enjoy your summer peaches to the fullest!