Fall is my favorite time of year. The weather starts to get cooler here in Louisiana, football season kicks off, I get to bake seasonal goodies and of course its the perfect season to visit the pumpkin patch with our kids.
Since having kids, we decided that one of our family traditions would be taking an annual trip to the pumpkin patch every year. Seeing my daughter get so excited about the pumpkin patch makes it so worth it. To make sure that we have the best experience and get the most out of our trip, there are some helpful tips I have learned.
1. Find The Right Pumpkin Patch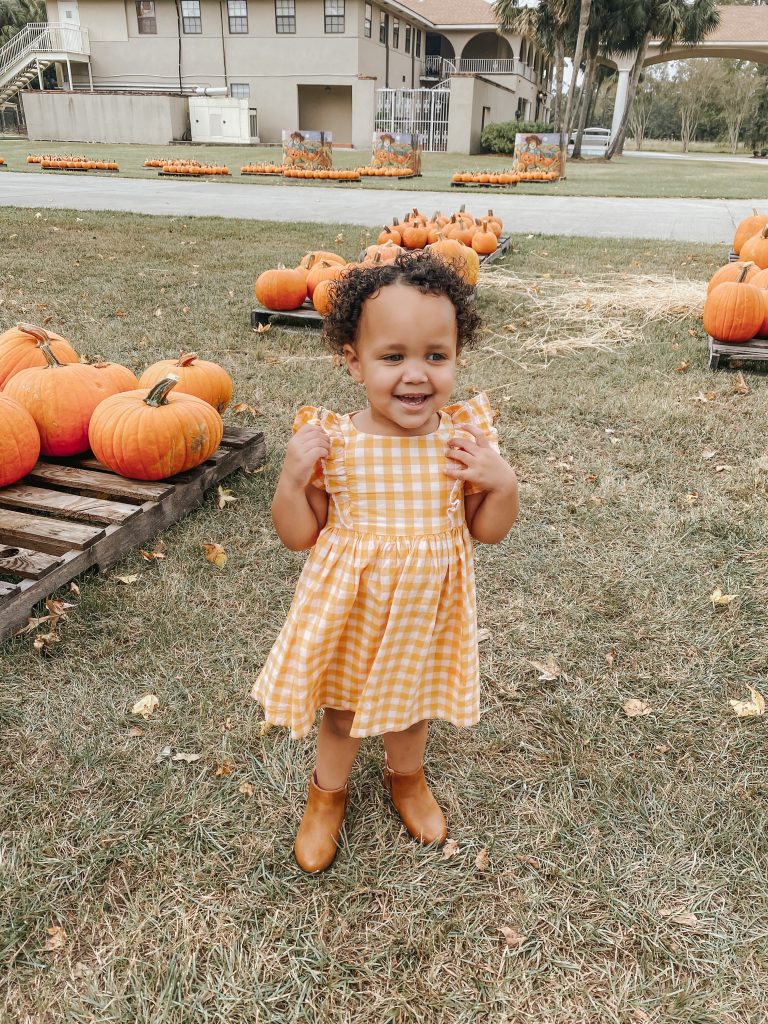 We have a good bit of pumpkin patches here but we choose which one we are going to based on the activities they have for kids. Some patches have more activities for families & kids including a corn maze, face painting, hay rides and apple picking and some are more suited for an older crowd. Sometimes the pumpkin patch has special events on certain days so always check with them and do your research.
2. Pick The Right Time To Go
After our first year visiting the pumpkin patch I learned to go during the week. When you have toddlers, they're going to want to run around and explore and for us it's more beneficial to go when there are less people. So we go early in the season, normally within the first week of them opening and during the week. Weekends are busy and can get crowded really fast.
3. Let Your Children Pick The Pumpkin
My daughter loves exploring and picking different size pumpkins for us to take home. This year it was extra special because after picking large pumpkins she went and picked a small pumpkin for her 2 month old baby brother and it was so sweet. Letting her help pick the pumpkins makes her feel like she's a part of things and she loves it.
4. Dress Comfortably
Here in Louisiana Fall days can start off as cool and by mid-day the weather will change to warm and humid. We make sure to dress comfortably, bring a jacket and wear comfortable shoes. Pumpkin patches normally have a lot of hay and dirt so I make sure to put tennis shoes or boots on my daughter so that she can walk and run around without hurting her feet.
5. Have Fun
We make it a point to have fun when we visit the pumpkin patch. It's a great family outing and so fun to see the kids getting excited about the pumpkins and running around. We take our time, let our daughter explore as much as she wants and we take lots of pictures. It's memories that we will always remember and cherish.