When I was a mom of 1, I was an extreme over packer when it came to the diaper bag. I packed and was prepared for every possible scenario when I was out and about with my daughter.
Now that I have 2 kids there's no way in the world that I can pack everything that I used to and comfortably hold the diaper bag while being out with my kids.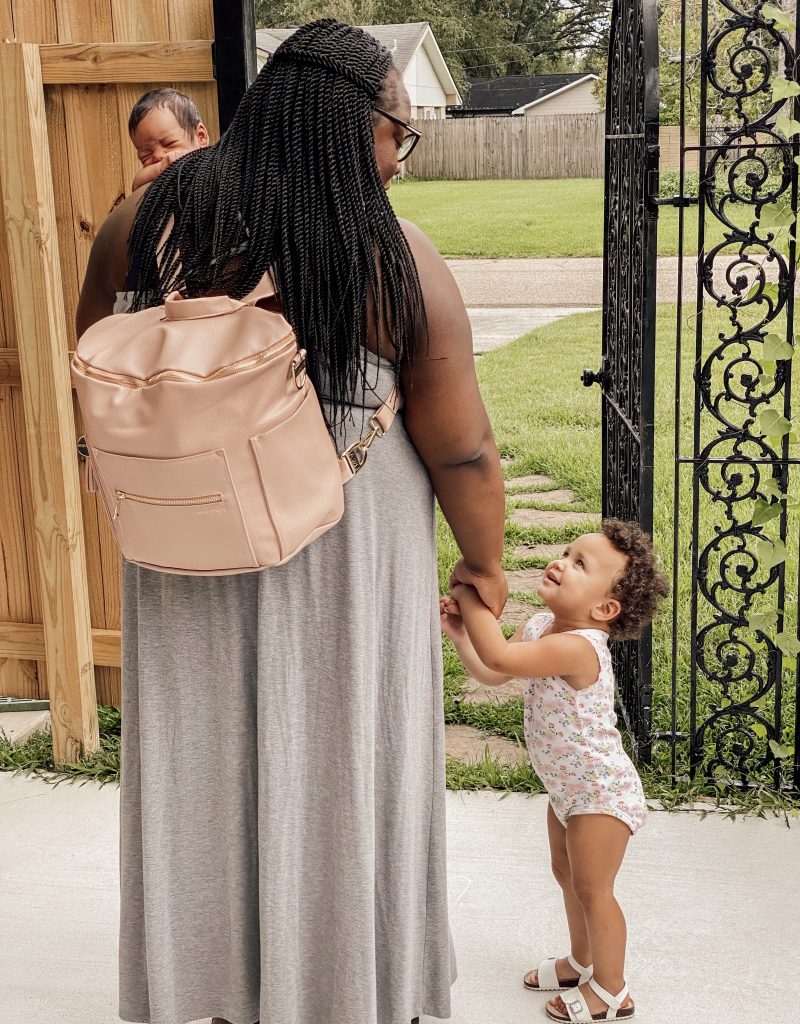 I'm excited to share that I've put together a list of what's in my diaper bag for both kids. Everything that is packed fits comfortably in our Blush Fawn Design Diaper Bag, that is easy to carry and handle while I am on the go with my 2 little ones.
High Quality: This bag is large, durable, made of thick faux leather that is sturdy and easy to wipe clean.
Spacious with lots of pockets: With all of the pockets outside & inside there is so much space to fit everything I need for 2 kids and myself.
Functional: The top of the bag opens wide for easy to the inside and its easy to do with one hand.
Comfortable to wear: You can wear it as a backpack, messenger bag or shoulder carry and all 3 ways are comfortable.
Cute & Stylish: These bags come in so many beautiful colors and the gold details are gorgeous.
Diaper Bag Essentials
Wallet – Can't go anywhere without my wallet. Anything I need for myself goes into the diaper bag.
Diapers – These Pampers Pure diapers are our favorite. I pack 5 for my newborn & 5 for my 2 year old.
Baby Wipes – I make sure to bring an entire pack of these Pampers Pure wipes for diaper changes, messes and spills. They are gentle on babies skin and perfect for cleaning up small accidents.
Baby Shusher – When our little one is taking a nap and we are out and about this sound machine is a lifesaver.
Bottle – I breastfeed my baby but also make sure to bring a our Boon bottle with us just in case.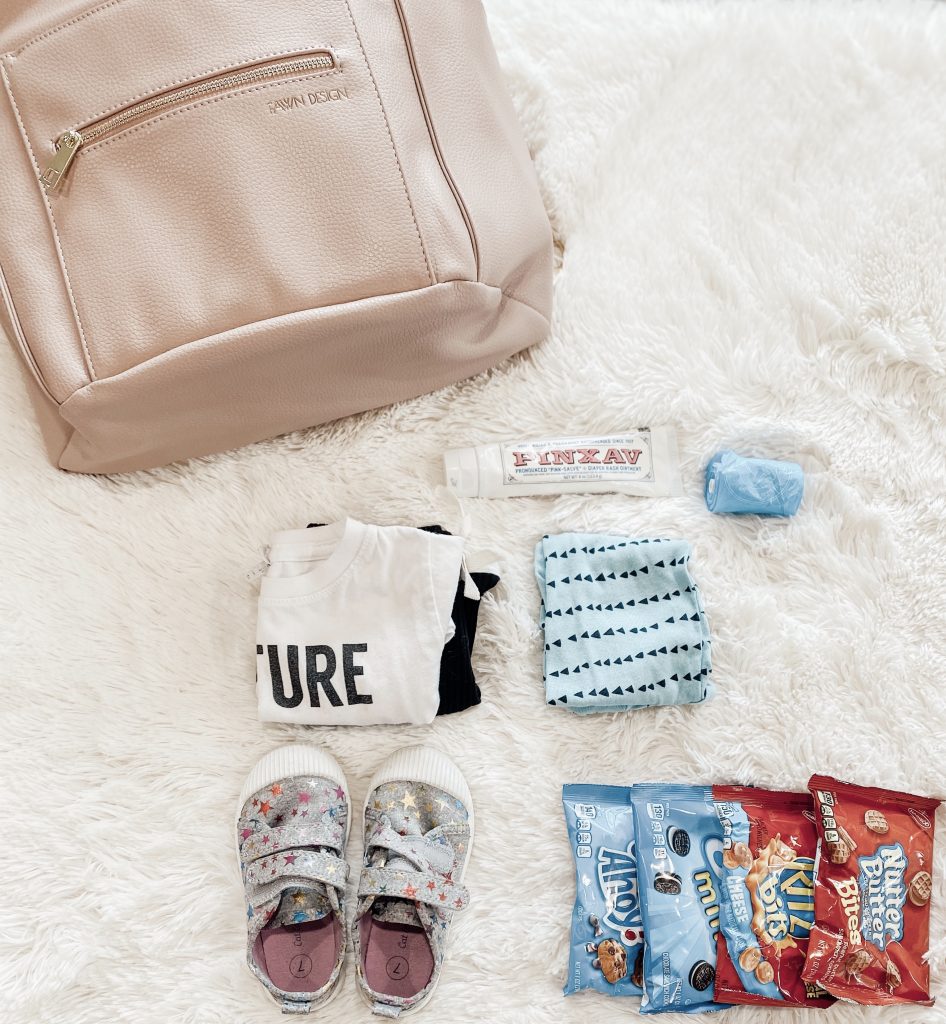 Diaper Rash Cream – Our Pinxav healing cream is always with us. It's good for Diaper Rash, Eczema, Chafing, Bed Sores, Acne, Minor Cuts & Burns
Extra Clothes – An extra outfit for both kids is a must have. From poop explosions to food or dirt messes a change of clothes is always with us.
Disposable Diaper Bags – Just in case there's not a trash can around I bring a roll of these bags with us.
Snacks – I always keep snacks in the bag for my toddler.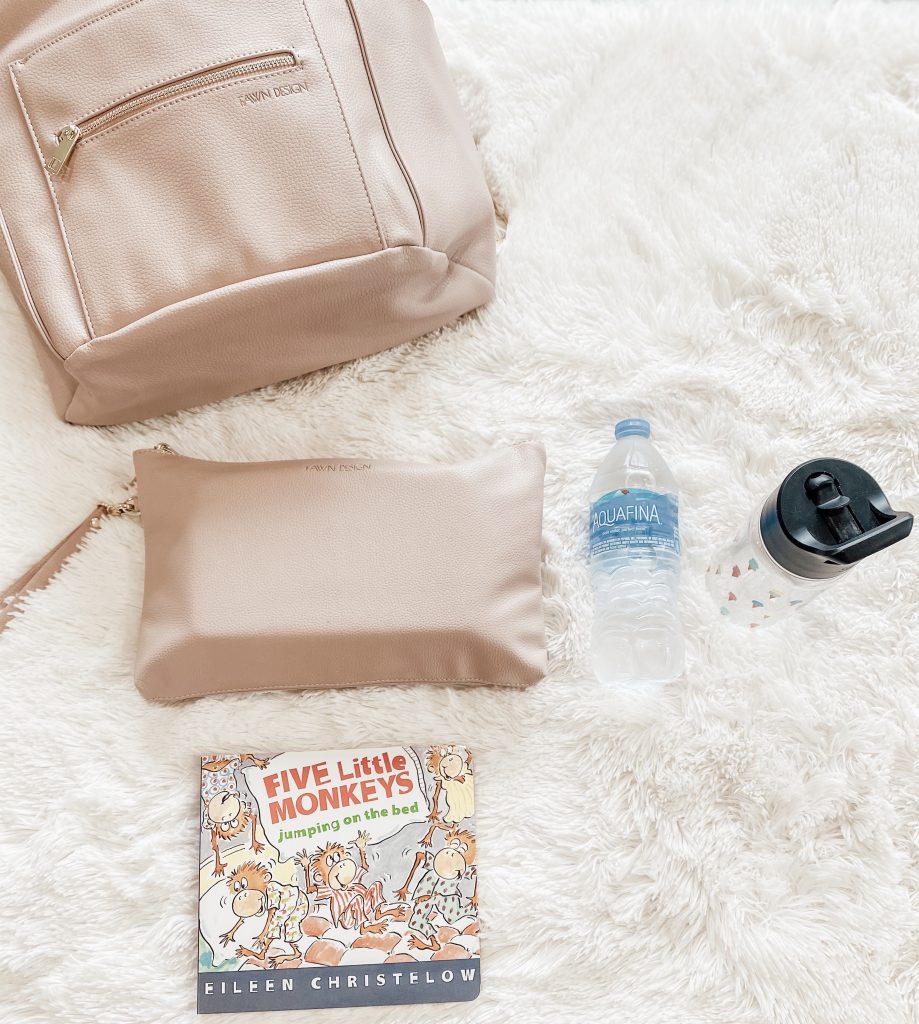 Sip Cup – These travel tumblers are a must have for my 2 year old. They are durable, lightweight and leakproof.
Bottle Of Water – I always have a bottle of water on hand.
Changing Clutch – This changing clutch from Fawn Design is perfect for changing diapers while on the go. It has a changing mat & a wipes case and it can be worn as a wristlet.
Books – To keep my toddler entertained during car rides.
Travel First Aid Kit – I always make sure to have some type of first aid supplies on hand. This kit from Welly is perfect for on the go.
Chap Stick – I never leave home without a bottle of Carmex.
Pacifier – These pacifiers from Ryan and Rose are the only ones my son will take. They are perfect for soothing and helping him to nap while we are out and about.
Blanket – This blanket from Milksnob is one of my favorites because it's soft, cool to the touch, perfect for any climate and designed to grow with your little one. It can also be used as a nursing cover or carseat cover for baby.
Baby Rattle – A cute noisemaking rattle for the little one while we are out.
Not overpacking has helped so much when I'm out with my kids. Of course I don't use everything that I carry on a daily basis but we I keep them with us because they are important essentials I need for my kids and myself. If you are a first time mom, make sure to check out my post on: The Only 12 Things You Need For A Newborn.