With my first pregnancy, I kind of went with the flow because I knew nothing about being pregnant and what I would need or want as an expecting mom. Now that I'm pregnant again I wanted to share a list of my top 10 pregnancy must-haves things that have helped me get through this pregnancy & also my first pregnancy when I started to figure things out.
Prenantal Vitamins– These are the prenatal vitamins I currently use and I also took them when I was pregnant with my daughter and throughout our 2 year breastfeeding journey. I love that these have the folic acid, DHA & Iron which are all great for baby's brain, cognitive development and spinal cord development.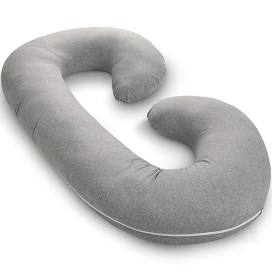 Pregnancy Pillow– Pharmedoc has the best pregnancy pillows. I love that they come in different shapes because every pregnancy is different and all pregnant women don't sleep the same. I am a full-time stomach sleeper, lol, but being pregnant it's difficult to lay on your stomach as you belly is continually growing. My doctor asked me to try laying on my left side and it was a challenge until I found this c-shaped pregnancy pillow. This pillow is so soft, comfortable and is the ultimate lifesaver with helping me sleep comfortably through the night.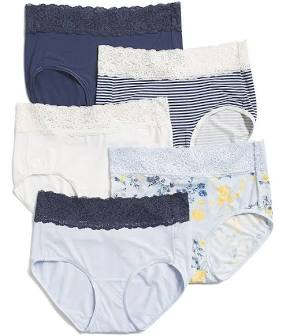 Comfortable Underwear– Having a handful of comfortable underwear is a must. Some women prefer maternity underwear that fits under their growing belly, whereas I like full-coverage briefs or as some people like to call them "Granny Panties." Whatever you're most comfortable in is all that matters-just make sure that your underwear are comfortable, breathable and at least 90% cotton. Not only are cotton underwear soft, but they also allow your skin to breathe and it absorbs moisture away from your body.
Maternity Belt– I discovering the belly bandit halfway through my first pregnancy and it made a world of difference with easing my back pain from pregnancy. They help to redistribute the weight of your pregnancy and are perfect for all day everyday wear. I love that it is soft, breathable, supportive & comfortable.
Heartburn Tea– I recently discovered this tea from Bamboobies when I was about 22 weeks pregnant and it has been a lifesaver. I've reached the stage in pregnancy where I have. heartburn all day & all night long. After trying this for the first time a couple of weeks ago I am sold on this tea. It's made with it's made with herbs & natural ingredients, caffeine + sugar free, has no GMOs, preservatives or artificial ingredients.
Exercise Ball– During my first pregnancy I had constant severe pelvic pain and it wasn't until my doctor explained to me that this was from my body getting ready for delivery that I understood what was going on. She recommended an exercise ball to help alleviate discomfort and I found myself using it daily during that pregnancy. Even now in my 2nd pregnancy I love using my ball on a daily basis because it feels good and it's helping to open up my hips to make room for baby to descend into my pelvis.
Skin Moisturizer– Although both of my pregnancies have been different, something that has been constant during both pregnancies is dry skin. I used CeraVe during my first pregnancy and it helped to soothe and keep my skin moisturized. So of course I am using this daily during this pregnancy and it has really made a difference in my skin.
Travel Cup or Water Bottle– Staying hydrated during pregnancy is so important. With me being someone who is always on the go, I bring my yeti cup with me everywhere. I love this cup because its large and keeps drinks hot or cold for a while. You can also use a water bottle. I make sure to drink at least 5 of these 30 ounce cups a day.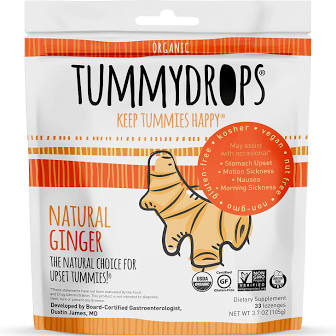 Tummy Drops– With my first pregnancy I didn't experience much nausea at all. This time around it hit me like a ton of bricks especially in the first trimester. I was having morning sickness throughout the day and someone recommended these Tummy Drops to me. I love that they are individually wrapped because it makes them perfect for on the go and they taste great.
Comfortable Leggings– I lived in leggings during my entire first pregnancy. This time around I wear leggings at least 3-4 times a week. They are so comfortable, lightweight & soft. I buy mine from Torrid but Target has really nice leggings as well. What I love about leggings aside from the comfort is that come in many different colors and lengths.
Although every pregnancy and person is different, I hope that this list helps an expecting mom during their pregnancy journey and points them in the right direction. If you're working on your registry check out this post about Baby Registry Must Haves.