Father's Day is right around the corner. It's time to show love to the men in our lives and spoil them. My husband is really big into Star Trek and I thought it would be fun to create a Father's Day Gift Guide For Trekkies.
Every year Hallmark comes out with new Star Trek themed keepsake ornaments right before Christmas. I have been buying these ornaments for years now and my husband has a collection of over 30.
Perfect for any Star Trek fan. I bought these for my husband the year we got engaged and he loved them. He wore them to our wedding the following year.
A must have for any Trekkie. Whats neat about this is that you can pair it to any bluetooth-enabled phone and it looks, feels and operates just like the iconic Trek communicator. It also has over 20 authentic sound effects and crew voice clips from the Star Trek universe.
This unique wearable combadge has chirp sounds, microphone and speaker capabilities. It also connects to all phones or tablets that have bluetooth. One button answers/end calls and you can also listen to texts & emails hands free.
5. Custom Star Trek Cake
My husbands favorite character is Spok, so for our wedding I surprised him with this custom grooms cake. You can visit any local baker and get a custom cake made.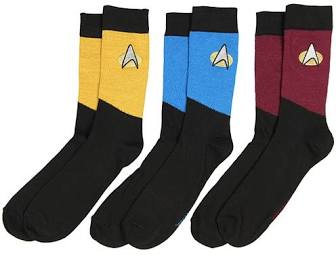 These socks are a fun gift for any adult who loves Star Trek. They're comfortable, fashionable for any Trekkie & good quality.
This fun mug has a transporter effect that is really neat to watch. When you add a hot beverage to your mug the picture fades on one side and reappears on the other side of the mug.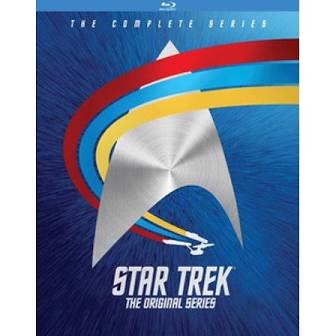 Star Trek came out in 1966 and has come a long way. This set of the original series is perfect for any one that loves Star Trek.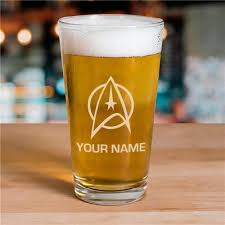 Sip your favorite beverage in style with this fun customized drinking glass.
This personalized tee is comfortable, lightweight & the perfect tee to lounge around in.
If you have any Trekkies in your family, I hope this list gives you some great ideas for Father's Day.