Aubrey's first two teeth broke through when she was six months old. When she started teething a couple of months prior she was drooling excessively, chewing on her hands a lot, putting everything in her mouth and chewing for relief, fussier at night and pulling at her ears. Seeing her go through this and having no idea of how to help relieve her pain made me feel helpless.
After talking to a couple of other moms about their experiences with teething, I learned that it is going to be different for every baby. Some babies will teeth for a couple of months before the tooth ever brakes through and some will teeth for only a couple of days prior to the tooth coming. I even had one mom who said that her child showed no symptoms of teething and was never in any pain. That was not the case for our daughter.
Someone suggested I try applying something cold to numb her gums and relieve some of her discomfort. I purchased the Nuby Garden Fresh Fruitsicle Frozen Pop Tray last Summer right after Aubrey was born. It was on sale and my plan was to eventually use it to make fruit popsicles for her. I decided to try breastmilk popsicles and see if they would give her any kind of relief.

How To Make:
Fill each slot with breastmilk and snap the handles into the tray. Freeze until solid and serve. The smaller size of this tray allows these to freeze in. only a few hours.
What I like about the tray is that the handles are designed for small hands, so she can grip it well and also the wide base of the handle catches a lot of the drips as the popsicle is melting.
Aubrey loves these popsicles. The cold from the frozen popsicle have done wonders to soothe her tender gums.
I used breastmilk because Aubrey is breastfed, but you also use formula.
Here are a few other things that we tried for her teething and they worked for her as well:
1. Gum Massage
This was recommended to me by my mom and it worked for us. The pressure from us massaging her gums helped with her pain and swelling. We always made sure to wash our hands thoroughly and we would take one or two fingers and gently massage her tender gums. It was very effective at minimizing her pain.
2. Sophie
When I first found out about Sophie the Girrafe I was honestly skeptical and didn't believe the hype.
Well…the day we gave her this giraffe she took to it immediately. She LOVES her Sophie, I don't know what it is about this teether but baby loves it and it has helped with her teething. I even went out a purchased a second one to keep in our diaper bag as a backup. I like that it is designed that any part of it can go into her mouth and its soft and made of natural rubber. After all of the slobbering, chewing and biting she has done, Sophie is still in great shape. I highly recommend this teething toy for your little.
3. Harder Teething Toys
We knew that when Aubrey's 2 bottom teeth came in, massaging her gums was going to be a bit of a challenge. The Infantino Carrot Teether was a life saver, because it is a harder teething toy it helps to add pressure and soothe her gums in a similar way as the gum massage. The shape makes it so easy for her to hold and even easier to chew on every side. It is very well made of solid rubber and the bumps and texture throughout is very soothing for her gums.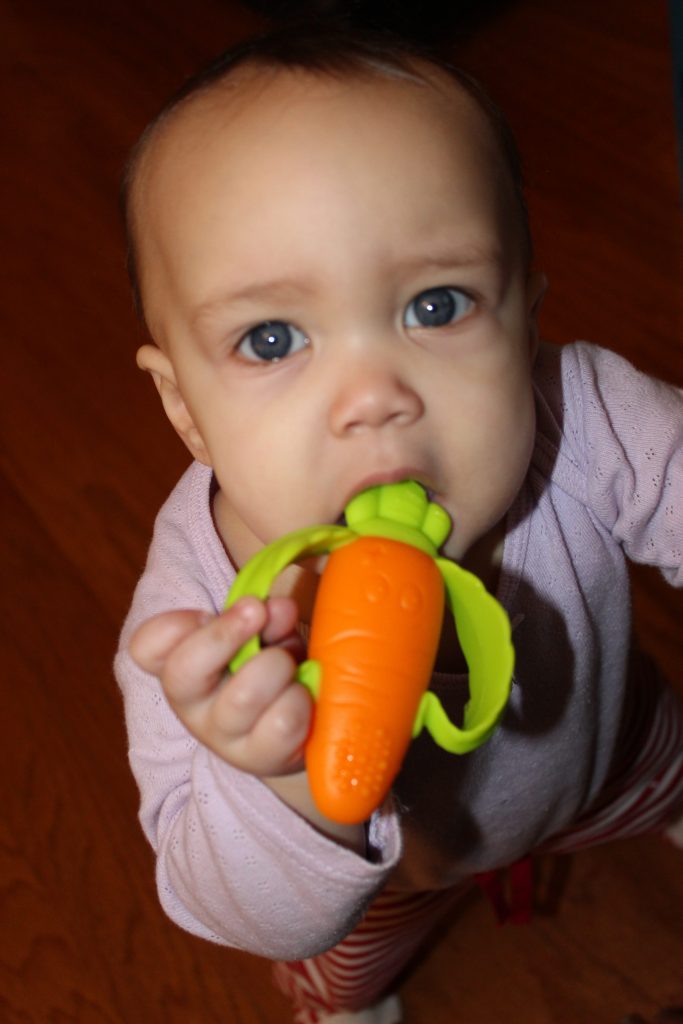 What are some of your teething remedies?