The hardest thing when looking for a diaper bag is finding the right one to fit your needs as a both a mom and a woman. Moms everywhere want a diaper bag that is both good quality and multi-functional while remaining stylish.
Having a diaper bag that can fit EVERYTHING inside and will last for years to come is something that I longed for after having gone through 3 diaper bags since my daughter was born 11 months ago.
Well guess what…………..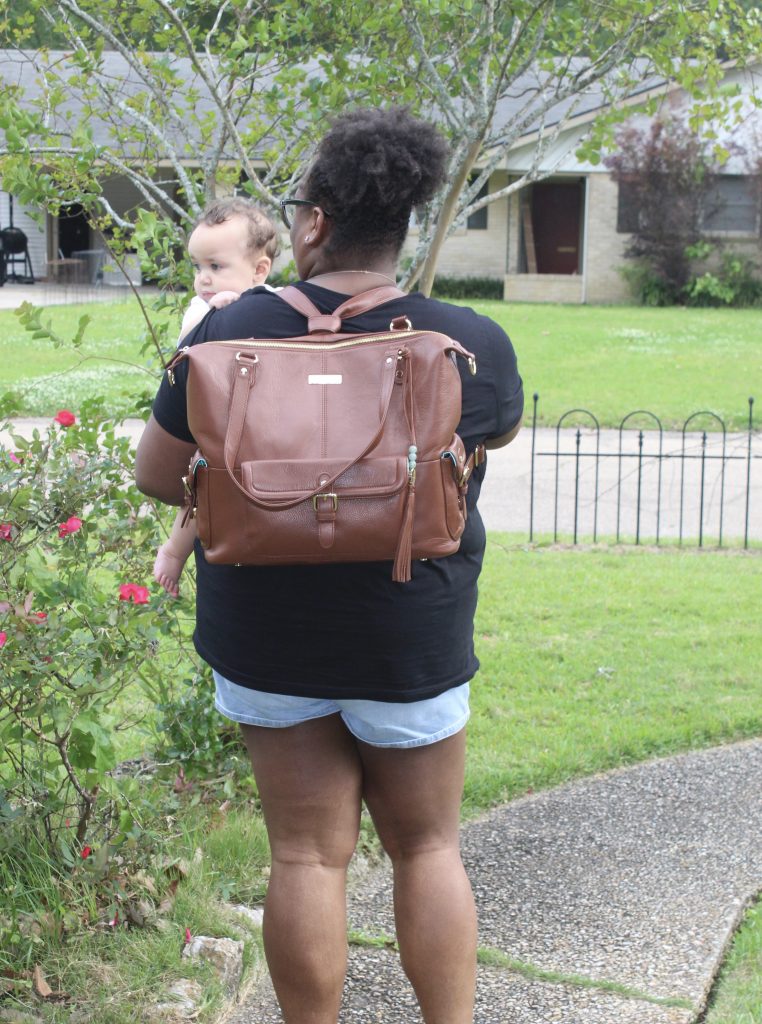 I have finally found a diaper bag that is built to last, multi-functional and stylish.
The beautiful Lily Jade Meggan Brandy & Gold is everything I have been looking for and so much more.
This diaper bag from Lily Jade is made of premium grain leather and has a gorgeous plush jade lined interior. From the stitching to the different panels that make up the bag, you can tell that details really matter to Lily Jade and they put quality first.
It comes with a changing pad and a removable 12 pocket organizer that can hold everything you need for both baby and mom and its machine washable. No more having to dig through the diaper bag to find anything!
I can fit everything that I need for Aubrey and I in this spacious organizer and there is still so much room for more.
The fact that I can simply take everything out at once while keeping it organized is a win!
Once the organizer is out you can use your Lily Jade as a purse. I love that this bag is multi-functional and chic.
My most favorite feature of my Lily Jade Meggan is the shoulder strap.
With the shoulder strap your bag can be converted from a carrying bag to a messenger bag or backpack in just seconds. Yes a backpack!
Being able to comfortably wear my diaper and have both hands and arms free is the best!
Lily Jade makes diaper bags that are built to last and can be used by moms everywhere. There are so many different styles and colors and they are all unique and beautiful.
When you buy a bag from Lily Jade you are also supporting an amazing cause.
Lily Jade partners with Embrace Grace to help provide resources for women with unplanned pregnancies. They also bless families that adopt with charitable contributions, giveaways and community support.
*This post is sponsored by Lily Jade, but all opinions are my own.
What are your must haves for a diaper bag?