Living in Louisiana, mosquitos are a nuisance year round. As a mom I always go out of my way to protect my daughter from being bitten.
Thanks to the new Mosquito Repellent Clips from Nuby, I have peace of mind knowing that she can be outside and enjoy outdoor activities without being attacked.
We attached these to our stroller and diaper bag and they were great at keeping the mosquitos away and the citronella scent was not overwhelming.
One feature I really like is that they are reusable for up to 15 days per clip if they are stored properly in the resealable packaging.
These clips are perfect for any parent that is looking for a repellant for their child that is DEET free and can be taken and used anywhere.
The ingredients in the Nuby Repellent Clips are a blend of natural essential oils that are safe for both children & adults.
As a mom, I would highly recommend these Mosquito Repellent Clips to other parents that are looking for a simple and nontoxic way of protecting your child from these pesky bugs.
Disclaimer: I am a member of the Nuby Parent Blogger Program. I received this product for free, but all opinions are my own.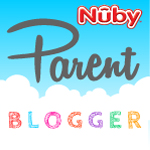 For new products and updates stay in touch with NubyUSA: