"This post is sponsored by Ghirardelli but all thoughts and opinions are my own."
The holiday season is finally here and I'm so excited! This is my favorite season for so many reasons with the main one being making fun and delicious holiday treats for family and friends. I absolutely love getting in the kitchen and making different treats for everyone and it's so much fun when my daughter helps me.
One of the easiest holiday treats that I enjoy making are these delicious Holiday Dipped Ginger Cookies. What I love about this treat is that you can use any type of cookie you like, whether they're store bought or home made they'll both be delicious because Ghirardelli's White Melting Wafers give them a delicious added flavor and beautiful coating.
I purchased these from my local Sams Club and the instructions are extremely easy to follow. I love that there is no need for tempering when using these Wafers. You simply melt the wafers, dip your treats, decorate and enjoy!
The Ghirardelli Melting Wafers from Sams Club are the only Wafers I use for dipped treats because they consistently give our treats a smooth finish, glossy shine and everything comes out perfect & delicious every time. I also love the size of the bag that I get from Sams Club. We make lots of dipped goodies during the holiday season and having a larger bag of wafers on hand is perfect.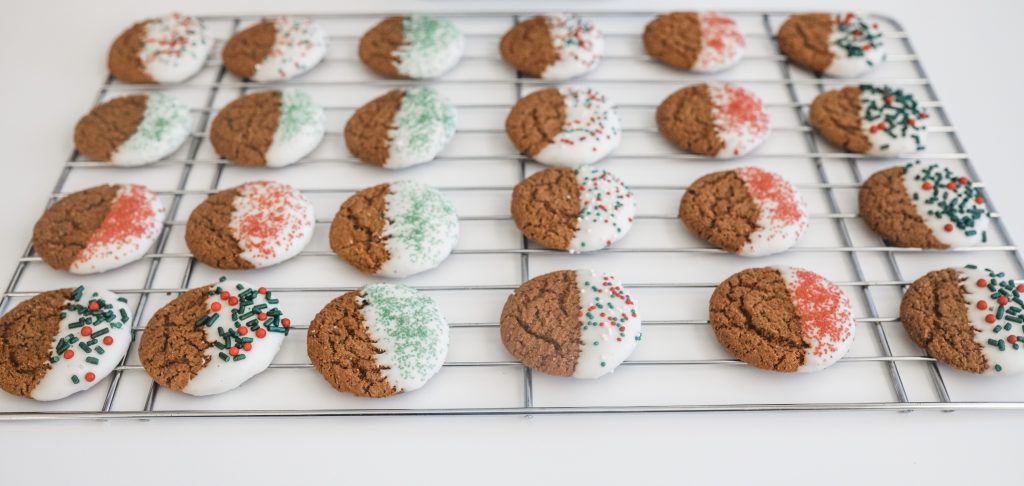 Making these are the perfect family activity. I had the best time making these with my daughter and she has already requested that we make these as gifts for her teachers holiday gift baskets.
Holiday Dipped Ginger Cookies
Ingredients
Gingersnap Cookies
Holiday Sprinkles
Directions
Melt the wafers according to the instructions on the package.
Dip cookies one at a time and place on a baking rack.
Decorate cookies with your holiday sprinkles and let the wafers set.
Enjoy!