This post has been sponsored by Challenge Butter. All thoughts and opinions are my own.
This is my favorite time of the year. Connecting with loved ones, getting into the holiday spirit and making fun and delicious holiday desserts to share and enjoy with everyone. Baking for others is something that I love to do and now that my daughter is old enough, it's a tradition that we do and enjoy every year together. For my holiday baking, I always head to the dairy aisle at my local Albertsons to pick up Challenge Salted Butter & Challenge Unsalted Butter.
I love using Challenge Butter because this is the butter that my grandmother used when she baked her delicious pastries and she swore by this butter. They are a family farmer owned company that's been churning fresh butter made with sweet cream daily since 1911. I really love that they don't use any artificial or synthetic ingredients and the taste is consistently fresh.
Two of our holiday favorites are Sugar Cookies in fun festive shapes & Hand Pies.
Sugar Cookies
Baking with my daughter is an adventure to say the least! She wants to be a big helper and be involved in every step, and sometimes that means little messes here and there, but that's the fun part. Aside from mixing and pressing the ingredients, her favorite part of baking is the tasting.
These were so easy to make and fun to decorate together. I was able to get everything I needed for these yummy cookies from Albertsons. Before I shopped in the store, I checked my Albertsons Mobile app for any coupons that could be applied to my purchase.
Ingredients
1 Cup of Softened Unsalted Challenge Butter
2 3/4 Cups All Purpose Flour
1 Teaspoon Baking Soda
1/2 Teaspoon Baking Powder
1 1/2 Cups Sugar
1 Egg
1 Teaspoon Vanilla Extract
Cookie Decorating Icing
Directions
Preheat oven to 375 degrees.
In a small bowl, stir together flour, baking soda, and baking powder & set aside.
In a large bowl, cream together the butter and sugar until smooth. Beat in egg and vanilla. Gradually blend in the dry ingredients. Cover and chill the dough for 2 hours.
On a clean floured surface, roll out the chilled dough to 1/4 inch thickness and cut out shapes using cookie cutters.
Bake 8 to 10 minutes in the preheated oven. Remove from cookie sheet to cool on wire racks.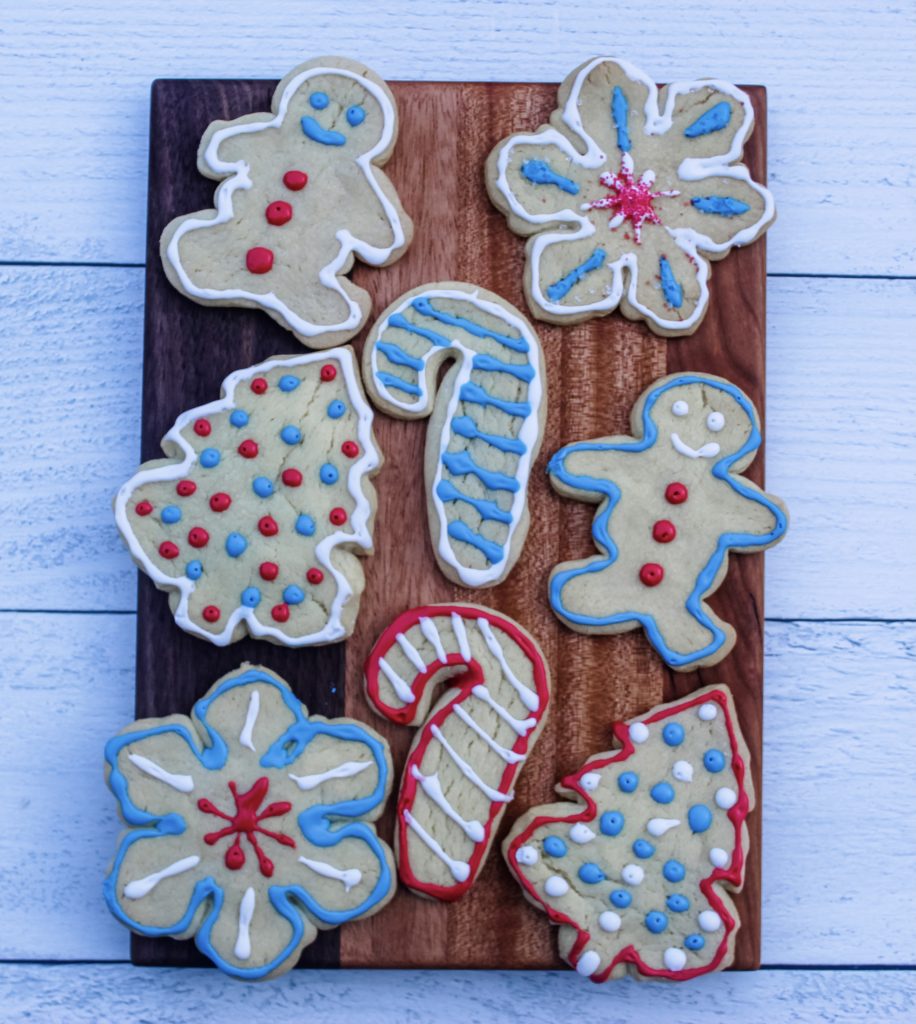 Hand Pies
For the hand pies we use Challenge Salted Butter in our pie crust. My daughter's favorite part of making these was flouring the dough and helping me roll it out.
Ingredients
2/3 Cup Cold Challenge Salted Butter
2 Cups All Purpose Flour
1/4 Teaspoon Salt
4 to 5 Tablespoons Cold Water
Store bought pie filling
Directions
Combine flour and salt in bowl. Cut in Challenge Butter with a fork until the mixture resembles coarse crumbs. Stir in enough water with fork just until the flour is moistened.
Divide dough in half and flatten slightly. Wrap each half in plastic food wrap and refrigerate for 2 hours.
Roll out 1 ball of dough on lightly floured surface. Use hand pie molds to cut dough into shapes. Add the dough to the inside of the pie mold, add filling and top layer of hand pie. Press the mold to seal and crimp the edges.
Bake for 25 minutes in a 400 degree oven.
Spending time in the kitchen with my daughter is such a memorable experience. Baking, making messes, having fun and making those special memories that I will cherish forever.