This post is sponsored by Barilla but all thoughts and opinions are my own.
As a mom of 2, I'm always looking for different ways for my family to enjoy some of our favorite meals. Our household loves anything with pasta and veggies so I took one of our favorite pasta salads and instead of serving it with traditional pasta, I used the Barilla® Chickpea Rotini and everyone loved it!
I love that the Barilla Chickpea Pasta:
Is made with one simple ingredient (chickpeas)
Is a good source of plant-based protein and fiber
Is certified gluten free, non-GMO project verified
Is very versatile and can be used in many different recipes and dishes including pastas, salads & soups
This vegetarian pasta salad is so good. From the oven-roasted veggies, feta cheese, the yummy homemade marinade/dressing and the delicious taste of the Chickpea Rotini pasta, this dish is so full of flavor and nourishing. It's so simple to make and is the perfect quick, easy and wholesome meal that's guaranteed to satisfy even the pickiest eaters.
You can find Barilla® Legume Pasta products at your local Albertsons.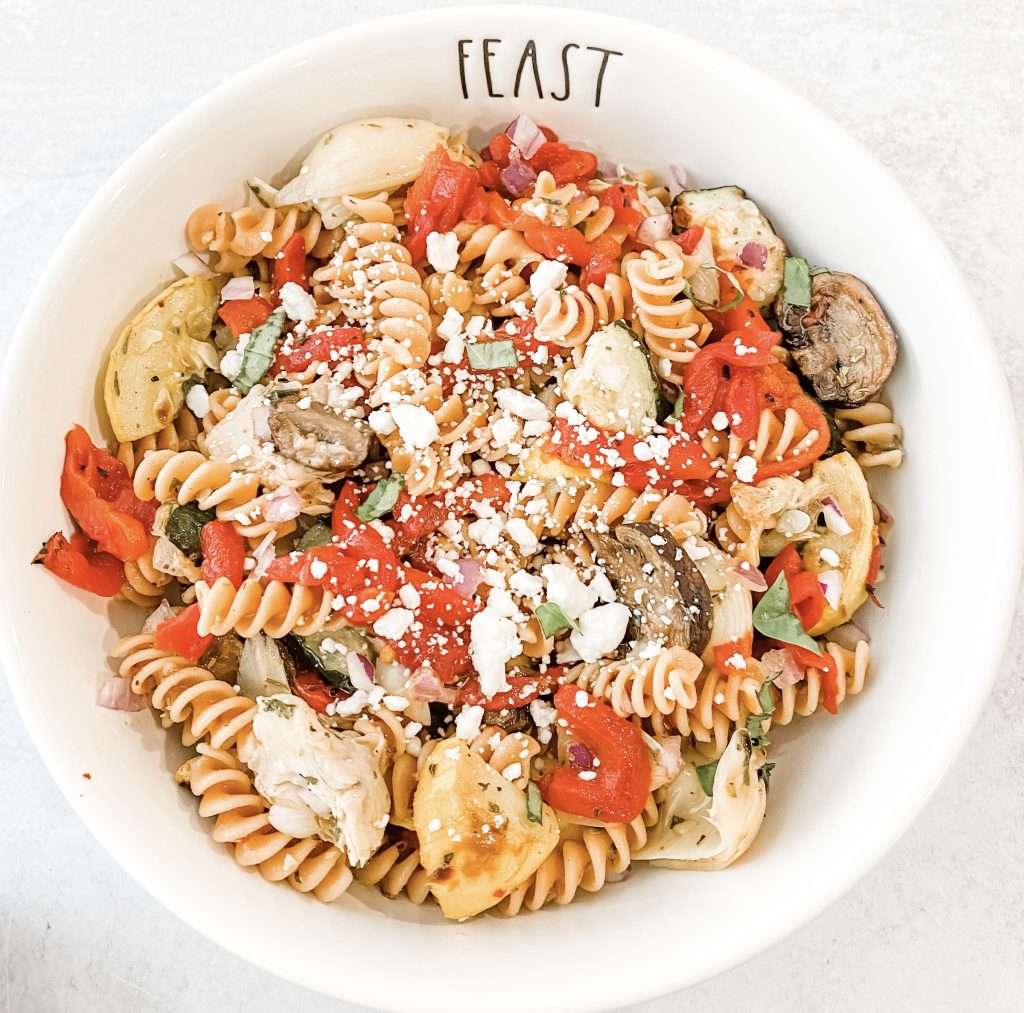 Vegetarian Pasta Salad
Ingredients
1 Box Barilla® Chickpea Rotini
1 Red Bell Pepper
1 Yellow Bell Pepper
1 Orange Bell Pepper
8 Oz Button Mushrooms
1 Red Onion
1 Zucchini
4 Oz Feta Cheese
8 Oz Jar of marinated Artichokes
Extra virgin olive oil
Minced garlic
1/3 cup Lemon juice
2 Tsp Sugar
1/2 Tsp Salt, pepper, Basil, thyme, oregano, parsley & red chili flakes
Directions
Preheat oven to 450F
Make your marinade: Add lemon juice, 1/3 cup olive oil, sugar, 1 Tbsp minced garlic, salt, pepper, basil, thyme, oregano, parsley and red chili flakes to a mason jar. Place lid on top shake well and refrigerate.
Dice all vegetables other than the Artichokes and place in a bowl. Drizzle with olive oil and add 1 Tbsp minced garlic, salt and pepper and toss to coat.
Spread vegetables on nonstick tray and and roast in oven for 25 minutes. Once done transfer vegetables to a large bowl and pour 1/2 of the marinade and toss to coat.
Cook Barilla® Chickpea Rotini according to package and add to the marinated vegetables, add the remaining marinade and set aside to cool for 10 minutes.
Add Artichokes, toss with feta and enjoy!