"This post has been sponsored by Mezzetta. All thoughts and opinions are my own."
Looking for a delicious dish for your family that's quick and easy to make? This Summer Garden Pasta With Grilled Chicken is just the thing you need. Full of veggies, fresh herbs, olive oil, angel hair pasta and grilled chicken, this pasta is a must try.
Two of my favorite ingredients in this pasta are the Sliced Greek Kalamata Olives & the Roasted Red Bell Pepper Strips, both from Mezzetta, they add so much flavor to this dish. I really love that this dish takes less than an hour to make, it's delicious and so simple to make.
You start by seasoning and grilling your chicken. While the chicken is cooking add the tomatoes, olives, red bell pepper strips, garlic, red pepper flakes, black pepper, sea salt and olive oil to a bowl and combine.
Add the chopped basil and set aside. Cook your angel hair pasta according to the directions on the box and once cooked and drained add the the bowl with the vegetable mixture, add your Parmesan cheese and combine well.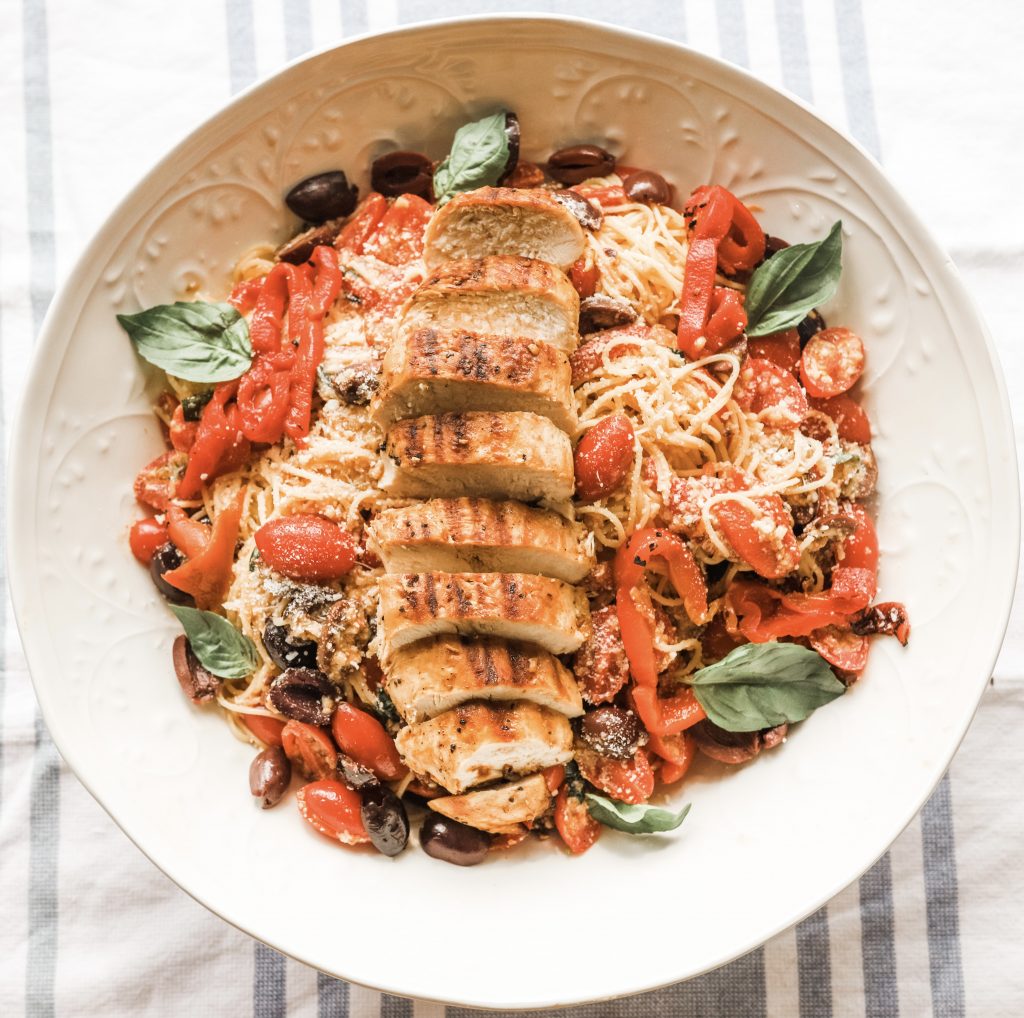 Transfer mixture to a serving bowl, top with the diced grilled chicken, add fresh basil leaves and enjoy.
Recipe Below
Summer Garden Pasta
Ingredients
18 ounces cherry tomatoes, halved
2-3 chicken breast
1/2 cup olive oil
2 tablespoons minced garlic
9 basil leaves, chopped, plus extra for serving
1 teaspoon crushed red pepper flakes
1 teaspoon kosher salt
1/2 teaspoon freshly ground black pepper
1 box of angel hair pasta
5 ounces of freshly grated Parmesan cheese
Directions
Season and grill the chicken breast.
While your chicken is grilling, combine the olives, bell pepper strips, cherry tomatoes, olive oil, garlic, basil leaves, red pepper flakes, salt and pepper in a large bowl and set aside.
Bring a large pot of water to a boil and add the pasta & cook according to the directions on the package.
Once the pasta is drained add to the large mixing bowl with the mixture of ingredients, add the cheese & mix well.
Slice your grilled chicken and place on top.
Add fresh basil leaves and Enjoy.