Summertime is the perfect time for ice cream. With the 4th of July coming soon this fun and festive Red, White and Blue No Churn Ice Cream is the perfect cold patriotic dessert. I love that although this recipe has a patriotic theme, you can easily change it to make your own custom version.
Making this was so simple and it doesn't require a lot of ingredients. Take cake mix and make batter according to the directions on the box, divide batter into 2 bowls. Add red food coloring to one bowl and blue food coloring to the second bowl. Mix and pour both batters into cupcake pan and bake as directed on box.
Whip the heavy whipping cream until stiff peaks form and stir in mixture of milk, vanilla and condensed milk.
Crumble in 4 red and 4 blue cupcakes and mix until combined.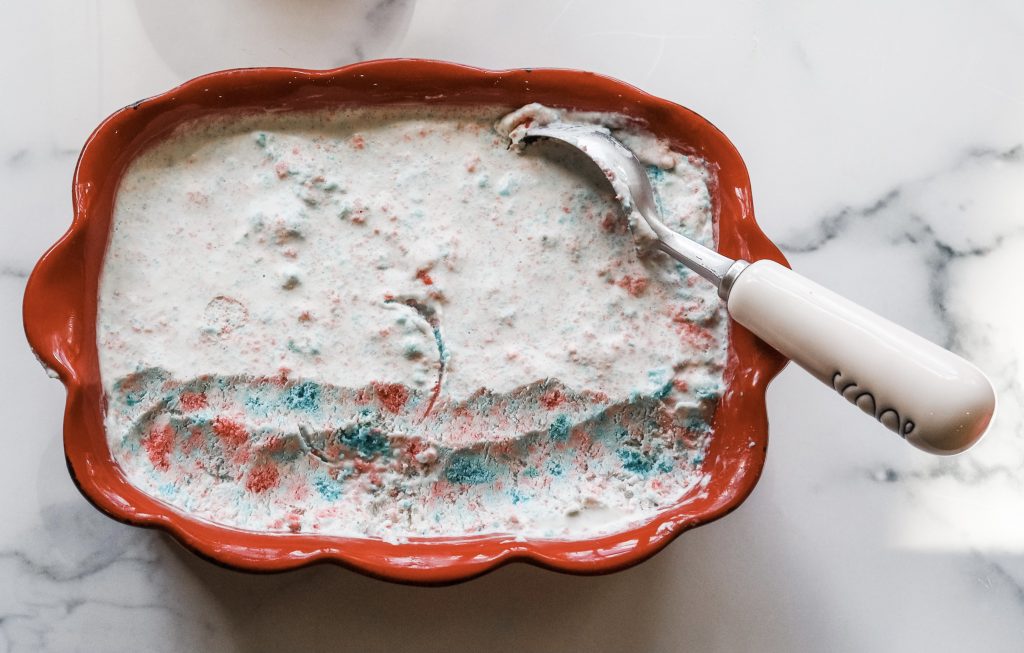 Pour into a shallow container or dish and freeze until firm.
This was my first time making no churn ice cream and it was so delicious and easy to make. The hardest part about this ice cream was waiting for it to get freeze, so that we could dig in and enjoy.
Recipe Below
Ingredients
1 box White Cake Mix
Red and Blue Food Coloring
2 cups Heavy Whipping Cream
1 can Sweetened Condensed Milk 14 oz
1 cup Milk
1 teaspoon Vanilla
Directions
Preheat oven to 350 degrees.
Prepare cake batter as directed on box.
Divide batter into 2 bowls and tint 1 red and 1 blue.
Pour batter into muffin pan and bake as directed on box.
Ice Cream: Whip heavy whipping cream until stiff peaks form ( you can use a hand mixer, stand mixer or a whisk)
In a superstate bowl, mix together milk, vanilla, and sweetened condensed milk until combined.
Add this mixture to the cream and fold together until almost combined.
Add 4 crumbled red cupcakes and 4 crumbled blue cupcakes and mix in gently.
Pour mixture into a shallow dish and freeze for 6 hours until firm.