I breastfed my daughter for 18 months and now that we have a newborn, I'm breastfeeding him as well. As natural as breastfeeding is I struggled for the first month of nursing with my daughter. From clogged milk ducts, to sleep depravation, hormone irregularities and discomfort, I experienced everything when breastfeeding my first born.
Once I learned the right way to nurse my daughter and also about products that could help me I became successful with breastfeeding her and now I use them with my son. I hope that this list can help someone else with their breastfeeding journey.
1. Nursing Pillow
My Brest Friend Nursing Pillow
This pillow helps to support your back, neck and arms while breastfeeding. It also helps to correctly your baby for nursing.
2. Nursing Bras
Nursing bras are a must have when you're breastfeeding. They come in many different styles and you always want to make sure that whichever type you choose is comfortable.
3. Nursing Tanks
I wear nursing tanks daily and I even sleep in them. They are so convenient because they have a flap that opens in the front, making it easy to access your breast and feed your baby.
4. Nursing Pads
Nursing pads help to absorb leakage and they come as disposables and also reusable pads that you can wash.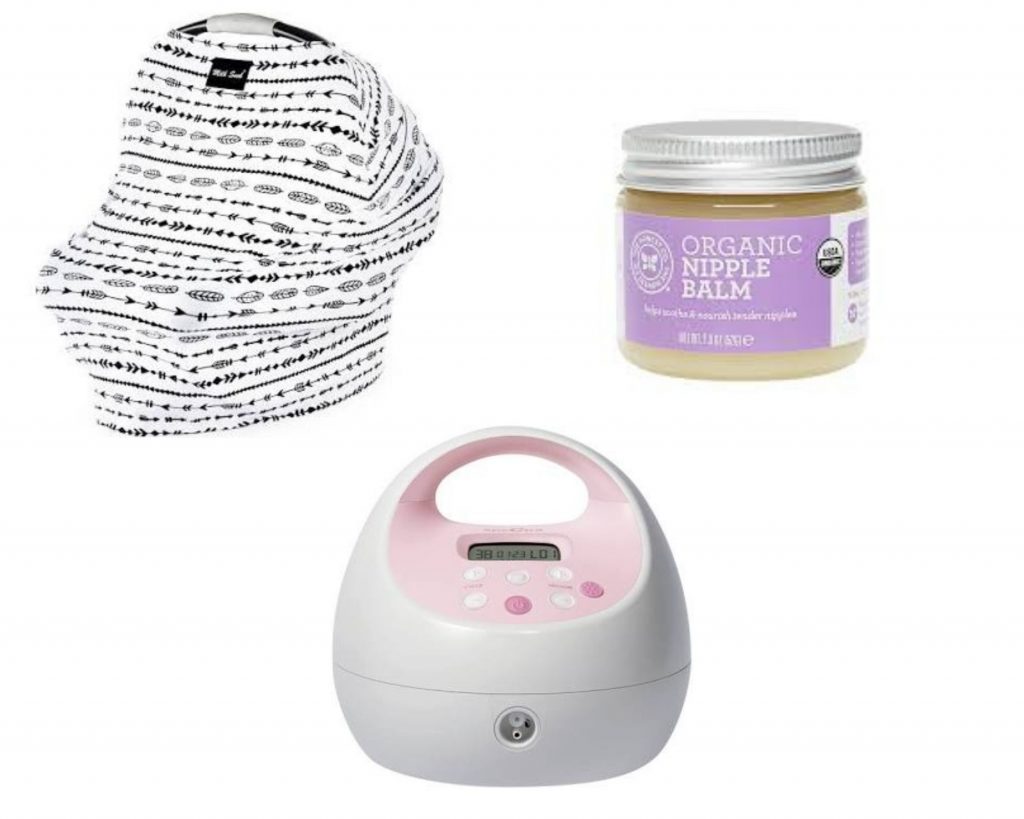 5. Nursing Cover
A multipurpose nursing cover is important. You can use it for nursing in public if you want and as a car seat cover. They provide shade, privacy and keep baby safe from the weather.
6. Nipple Balm
Honest Company Organic Nipple Balm
In my experience with breastfeeding, for the first couple of weeks I had cracked, raw & sore nipples. Nipple balm helps to soothe, nourish and relieve the irritation of painful and raw nipples from nursing.
7. Breast Pump
There are so many different types of pumps including: silicone, manual, electric and hands free. Most insurance companies will cover the cost of a breast pump, check with yours to see what they cover and offer. You can also rent a hospital grade pump from your local hospital.
I exclusively breastfeed but when my husband is up with our son at night he gives him a bottle, so I pump once a day. This helps me get the rest I need and also gives my hubby that bonding time with our son.
8. Mother's Milk Tea
I drank this tea after my first pregnancy and also my second and it helped to give a boost in my milk supply both times. With my infant son being almost 2 months old, along with lots of water daily, I still drink a cup of this tea at least 3 times a week to make sure that my breast milk supply doesn't decrease.
9. Hot/Cold Therapy Nursing Packs
Lansinoh TheraPearl Breast Therapy Pack
These gel packs provide relief for engorgement, mastitis, clogged milk ducts and work with breast pumps to encourage let-down. They can be heated in the microwave or frozen for hot or cold relief.
10. Milk Storage Bags
Lansinoh Breast Milk Storage Bags
If you pump, these bags come in handy. They are perfect for storing and freezing milk, the double zipper keeps the bags from leaking, they are BPA/BPS free and you can label them to keep up with the date they were frozen.
11. Water Bottle
Contigo Insulated Water Bottle
When you're breastfeeding it's important to stay hydrated. Having a water bottle near you when you're nursing is a good idea because once your baby starts feeding it's hard to move around. Any kind of water bottle that is insulated is perfect because it keeps cold drinks cold and hot drinks hot.