Easter is right around the corner and it's time to celebrate babies first Easter.
Even if they are too little for the chocolate and other sweets, there are so many special ways to celebrate this great holiday with an infant or toddler. These are some fun ideas that you and your baby will love:
Easter Egg Hunt
An egg hunt would be a great option for babies first Easter because babies like bright colors and will have fun spotting and picking up the colorful plastic eggs.

We took Aubrey to her first Easter egg hunt and she had a blast. It was a local event that was put on by the Red Stick Moms Blog and we all had so much fun.
What I really loved was that it was so organized and it was broken down into 4 age groups hunting eggs in different areas:
Under one year of age (non-walkers, crawlers and new walkers)
Ages 1-2 (walking but still mastering it)
Ages 2-3
4 years+
For her age group there were plastic eggs filled with coupons and other goodies, baby bottles, pacifiers, baby snacks, applesauce pouches and Chick-Fil-A gift cards.
Keepsake Footprint Crafts
Footprint crafts are such a cute and fun idea for babies first Easter.
You can stamp their little feet to make carrots, bunnies, and even little chicks.
We made the carrot footprints with Aubrey and it was our first time doing any kind of crafts with her. It was a fun experience, we got paint on everything but messy crafts are the best kind of crafts right?!?
For this craft you just need orange paint, white paper, orange and green coloring paper and a glue stick.
Spread the orange paint onto a paper plate
Stamp your littles one foot in the paint and stamp onto the white paper
While waiting for the paint to dry take the green paper and cut thin strips about 2-2 1/2 inches long
Once dry cut out the footprint and glue onto the orange paper
Cut the orange paper in into an elongated oval
Glue the green strips to the back of the orange paper to make it look like carrot tops
Let dry and your carrots are done!
Babies First Easter Basket
Babies younger than 1 year of age can't relish in the traditional Easter Basket goodies. Just because they can't have the chocolate and other candy doesn't mean that they can't have a fun Easter Basket.
There are so many other options for your little ones first Easter Basket.
You can fill up their basket with board books, plush toys, bibs, clothes, snacks if they are eating solids and other non candy goodies.
Click here for 40 ideas for babies first Easter Basket.
Easter Pictures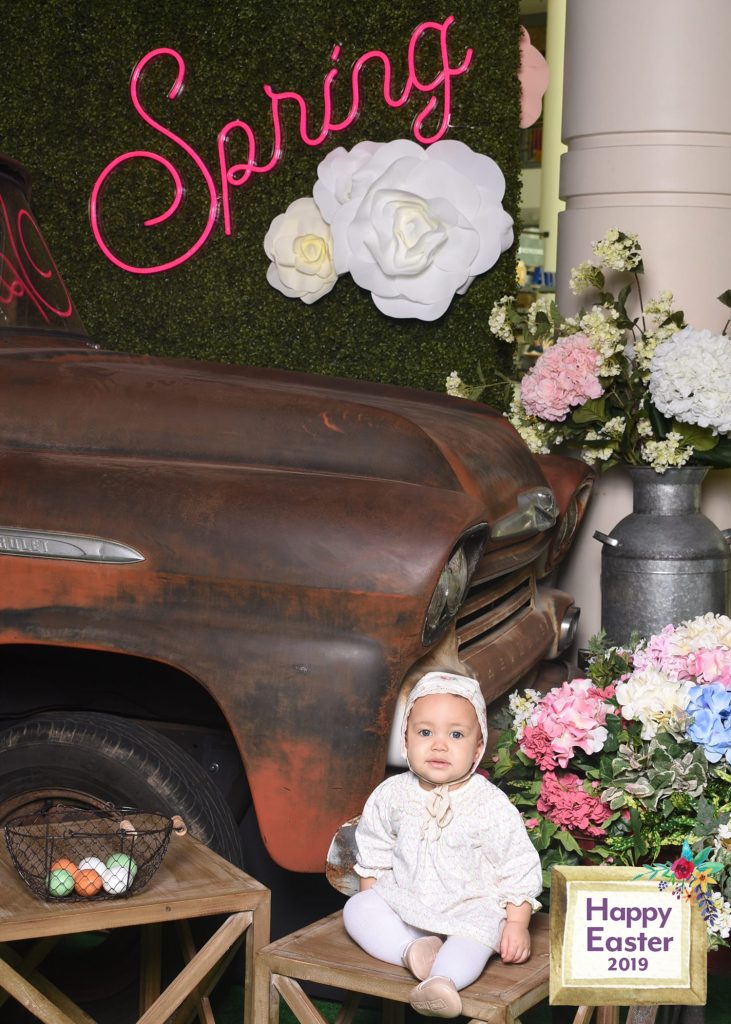 We took Aubrey to one of the local Malls to get pictures with the Easter Bunny. We didn't know if she was going to scream, cut-up or smile and enjoy herself.
When we got to the mall we wanted her to see the bunny before we just put her on his lap. When she saw him she just looked at him like she didn't really care, lol.
When we put her on his lap she looked at him and started smiling.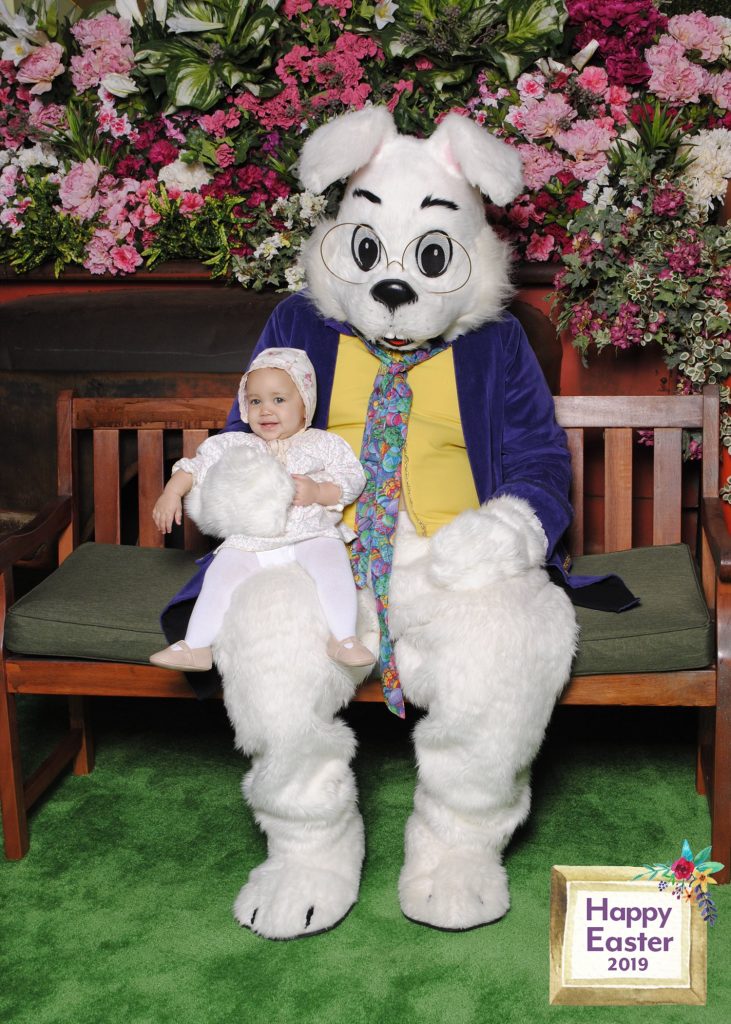 For the little ones that will scream if you take them for pictures with the Easter Bunny you can take photos outside.
There are so many places with beautiful scenery that you can get some adorable shots of your little one.
Plant Something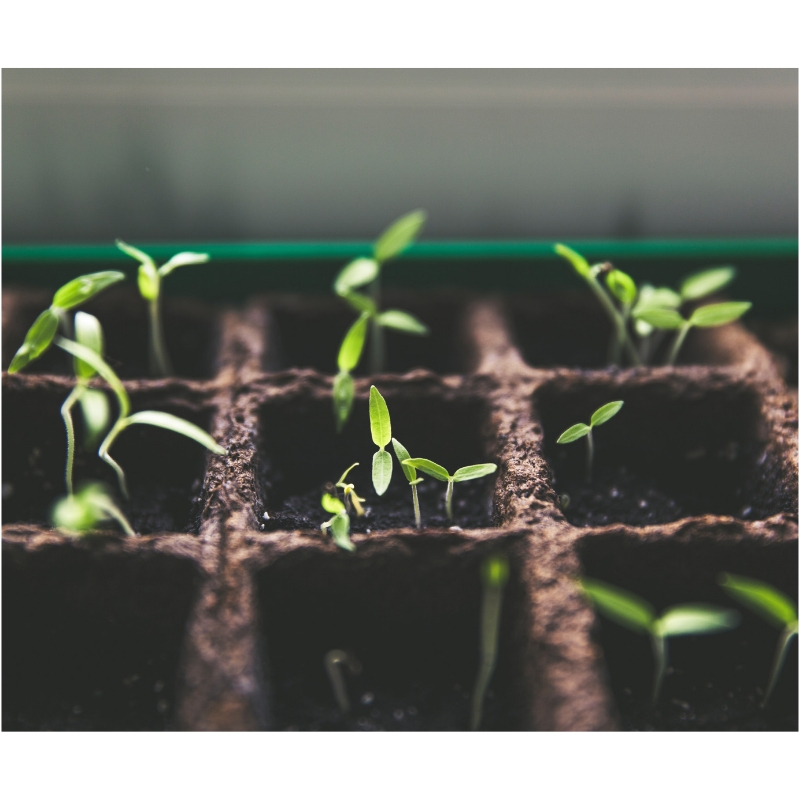 Easter is about new life.
How amazing would it be to plant something with your little one and watch it grow as they grow.
You can plant a tree, bush or even a garden and watch it flourish every year. This is something that you will treasure forever and as they get older they will learn to treasure it as well.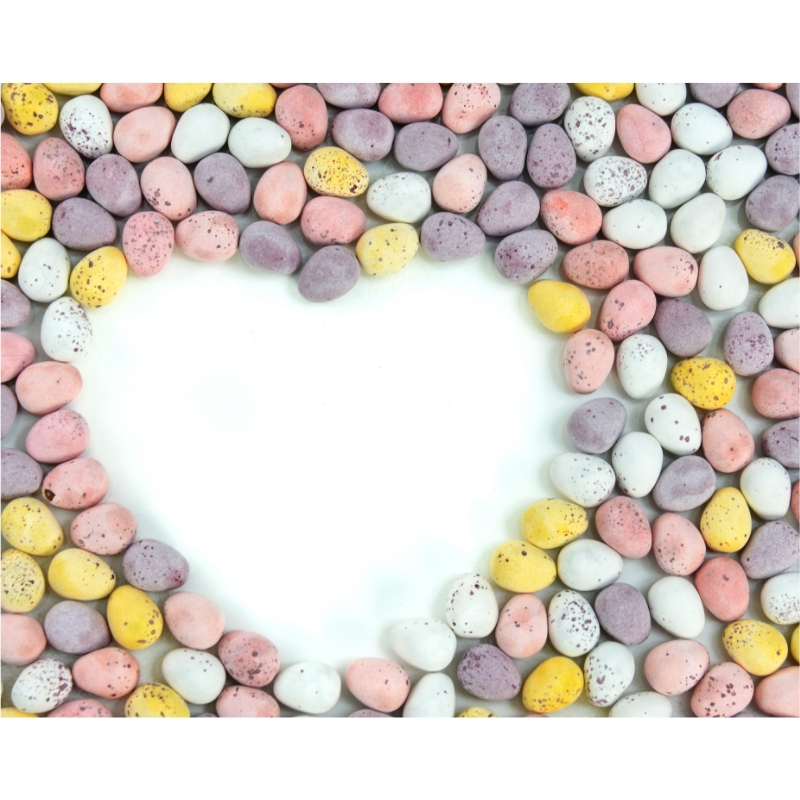 What are you doing or have done for your babies first Easter?