Now that Aubrey is eating solids, mealtime in our household can sometimes be overwhelming.
She LOVES playing with her food and sliding her hands all over her high chair top and making her food fall to the floor. Not to mention whatever food doesn't make it to her mouth or the floor ends up on her or in her high chair.
We have been looking for functional and fun feeding accessories that might help make mealtime easier and we discovered some awesome products from Nuby that have definitely made a big difference.
How cute is this Lion bib?!?
This soft silicone bib is the perfect bib for my messy eater. It's lightweight and it catches any extra food that doesn't make it to her mouth and its so easy to clean. You don't have to worry about putting it in the washing machine, you simply just have to wipe it or wash it off.
I love the button closure on the bib because its not scratchy like the bibs with velcro for the closure. Aubrey always pulls off the velcro bibs but with this one it was comfortable for her and she didn't even try and pull at it.
It's also great for taking on the go. It rolls up and will fit into any diaper bag for on-the-go-feeding.
The Nuby Comfort 360+ Trainer Cup is Aubrey's official "Big Girl Cup." She loves having the freedom of being able to grab her own cup and drink when she wants to. She also likes "dropping" her cup and giggling while waiting for her daddy or I to pick it up.
It has been a great transitioning cup from her bottles thanks to the no spill spout, easy to grip handles and most importantly the weighted straw that lets her drink from any angle.
Likes:
It's leak proof- this is a big plus for me especially since during mealtime this cup get's thrown or "dropped" so many times.
Great transition cup.
Easy to clean-I love that I can take this apart and clean each piece individually and throughly.
Baby can drink from any angle- the weighted straw makes it easy for them to drink from this cup no matter what angle they are holding it.
BPA Free
Dislikes:
The weighted straw piece occasionally comes loose and falls into the cup after she drops it.
Now that Aubrey is able to feed herself, a sectioned plate is a necessity.
She loves the fun design of her Elephant shaped plate and picking up her food from the different sections.
I love that the plates are made of easy to clean silicone and they are also BPA & PVC free and come in different colors.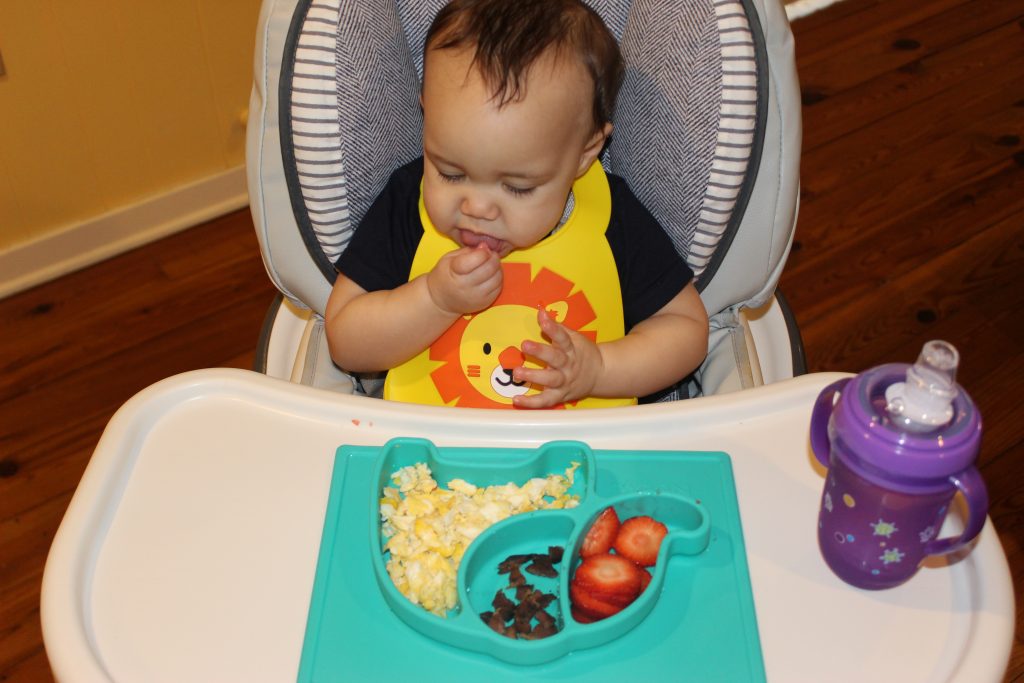 Likes:
A plate and placemat in one- Minimizes mess
Fun Design- Makes food fun for kids
Dishwasher safe- I LOVE easy cleanup
Sectioned- Great for motor skill development and keeping portions in check
No slip- If baby pushes on the plate it won't slide off the surface
Dislikes:
Does not suction well-It's easy for my daughter to pick the entire plate up from one of the corners. She can also grab onto one of the sectioned dividers and pick the plate up easily and spill her food.
Overall it is a really great plate but the suction could use a little improvement.
What are your go to Nuby mealtime accessories?
Disclaimer: I am a member of the Nuby Parent Blogger Program. I received these products for free, but all opinions are my own.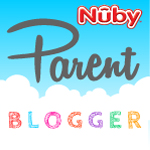 For new products and updates stay in touch with NubyUSA: