The Nuby 360 Grip n' Sip Cup is a game changer. It a has 360 degree weighted straw that allows your baby to be able to drink from any angle.
This cup is recommended for children ages 4 months and older and it holds up to 8 oz of liquid. It's BPA free which is a big plus for any parent. Knowing that your baby is using a product that is not harmful to them gives you peace of mind.
I absolutely love this cup for my daughter. She is able to hold this cup on own with the easy grip handles and drink from it without any help.
The 360 Grip n' Sip cup has a no-spill soft silicone spout which is great is great for any baby that is transitioning from a bottle to a sippy cup. It also has unique TOUCH-FLO feature that controls the amount of fluid your child takes in and automatically seals up when they are done sucking from the cup which keeps it from spilling.
Other great features:
Made from tough and durable Tritan plastic (Awesome feature, because we all know that sip cups get dropped and thrown to the ground many times)
Comes with a hygienic cover which is great for traveling
Comes apart easy for cleaning
Easy to assemble
1st Sipeez
Soft silicone is spout great for teething babies
Comes in a variety of colors.
My opinion of this cup is that it really is a great transition cup for my daughter. She has gotten accustomed to holding her bottle a certain way and she can hold this cup the same way without any assistance and will still be able to drink from it without any assistance.
You can find this cup in store at your local Walmart.

Disclaimer: I am a member of the Nuby Parent Blogger Program. I received this product for free, but all opinions are my own.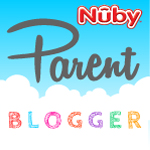 For new products and updates stay in touch with NubyUSA: