If you love S'mores, you're gonna love these Spooky Ghost S'mores Bars. They're so delicious, perfect for Halloween and easy to make.
These bars have 3 delicious layers to them:
The bottom layer is a graham cracker cookie that has rolled oats and white chocolate chips mixed in.
The middle layer is Hershey Bars
The top layer is Peeps Ghost shaped Marshmallows ( I purchased these from Target but you can also get them from

amazon

)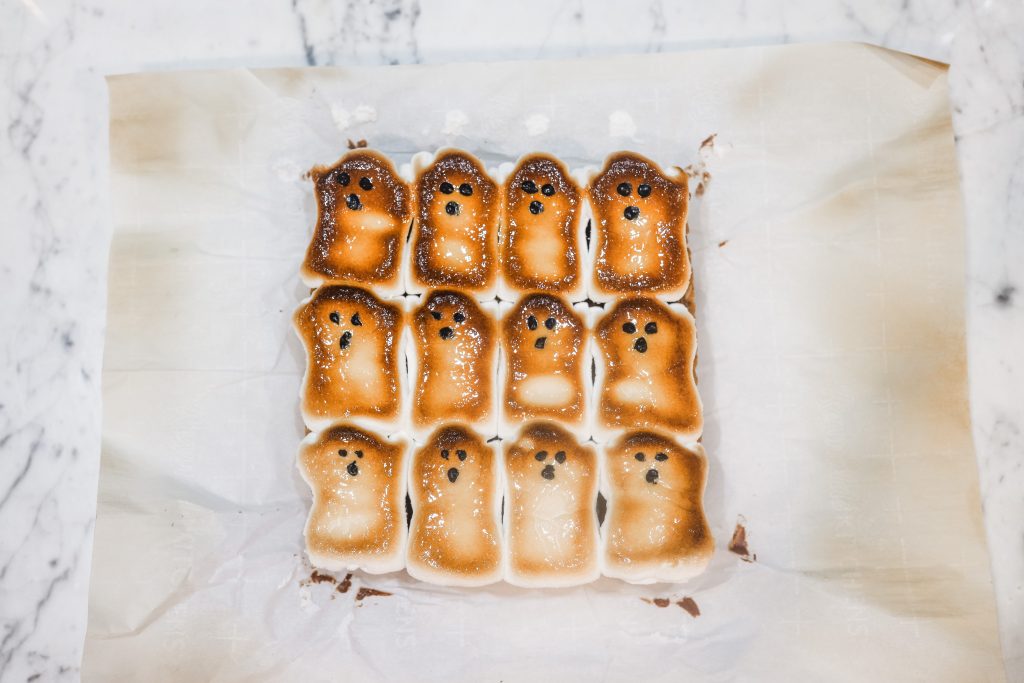 Recipe Below
Ghost S'mores Bars
Ingredients
1 cup all-purpose flour
1 cup white chocolate chips
1/2 cup rolled oats
1 cup graham cracker crumbs
1 teaspoon baking powder
1/4 teaspoon kosher salt
1/2 cup melted salted butter
3/4 cup brown sugar
1 egg
4 Hershey's milk chocolate candy bars
Directions
Preheat oven to 350°F and line an 8 x 8-inch pan with parchment paper.
In a medium bowl, stir together flour, chocolate chips, oats, graham cracker crumbs, baking powder, and salt and set aside.
In a separate bowl, mix butter and sugar together, add the egg and mix well. Stir in flour mixture until everything is well combined.
Spread mixture evenly into the prepared pan and bake for 18 minutes. Once it's done baking, let it cool for 20 minutes.
Once cooled, cover the top completely with the Hershey's bars and place the ghost marshmallows on top face down.
Set the broiler on your oven to low and place the bars in oven for 1-2 minutes until the candy bars start to melt and the marshmallows are golden brown.
Once the bars have cooled, using a food coloring pen or black icing add eyes and a mouth to each ghost. You can even use mini chocolate chips for the eyes and mouth. Cut into bars and enjoy!