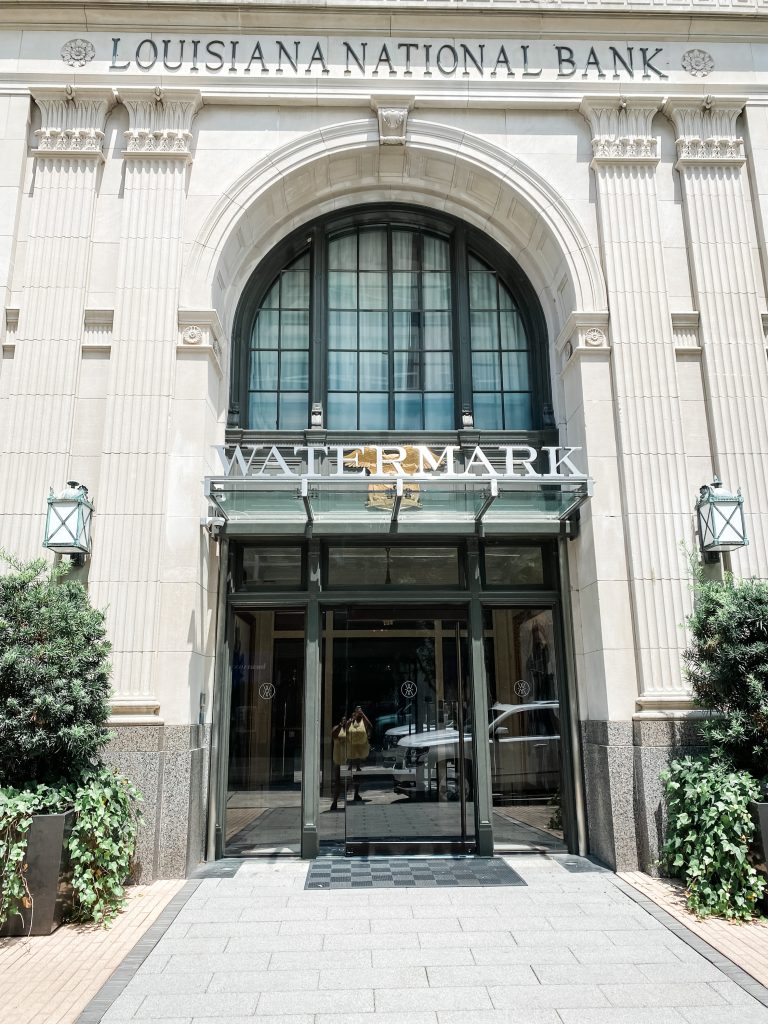 This past holiday weekend we took a staycation and spent 2 days at the Watermark Hotel in Downtown Baton Rouge. This historic hotel is a short 15 minute drive from out home and the a perfect place to go for a weekend to relax with amazing views of downtown Baton Rouge, the State Capitol and the Mississippi River.
The Watermark Hotel is at the site of the old Louisiana Trust & Savings Bank that was built as Baton Rouge's first skyscraper in 1927. Upon entering the hotel's foyer you're greeted with 2 face-to-face pictures, one of Thomas Jefferson and the other of Napoleon Bonaparte holding the Louisiana Purchase.
When you enter the lobby you can see so many unique & eclectic features including gorgeous hand painted murals in the lobby ceiling, a gorgeous grand staircase that leads to the original bank vaults, carved marble walls, the lobby bar, seating areas and the Gregory restaurant. When we arrived on our floor we were greeted with an awesome mural of former governor Huey P. Long riding in a vehicle in front of the old Louisiana Trust & Savings Bank.
Our room was a corner suite on the top floor and it did not disappoint. From the modern decor to the views of Downtown Baton Rouge, the State Capitol and the Horace Wilkinson Bridge that's over the lovely Mississippi River, the room was spacious, beautiful and comfortable.
Hotel Amenities
Entirely Non-Smoking
Breakfast Available (surcharge)
Dry Cleaning Service
Free Newspapers (lobby)
Front Desk (24-hour)
Wireless Internet Access
Bicycle Rentals
Fitness Center
Limo or Town Car Service Available
The Gregory, Southern Flavors
Milford's On Third
Lounge
Room Service
Meeting & Event Space
Catering
Air Conditioning
Original Artwork
Wake-Up Calls
Self & Valet Parking (Overnight Valet is $27/night + tax; Daily Parking Rate is $15)
Preserved Architecture
Daily Housekeeping
Handicap Access
River Views
Our staycation was only for two days, but we had a great time. From the friendly staff at the hotel, to the comfortable room and the amazing room service The Watermark Hotel was truly home away from home and we had an amazing time.